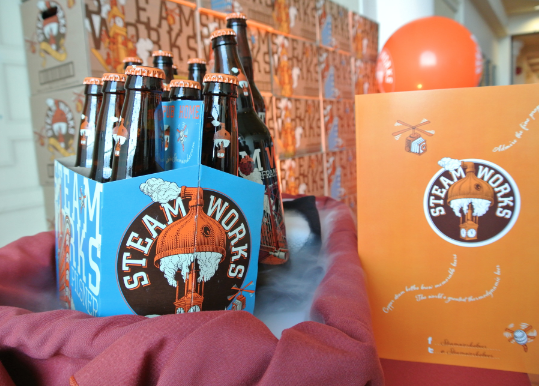 When Steamworks Restaurant and Brewing Co. opened in 1995, a rare steam heat system was discovered which made way for a one-of-a-kind steam generated brewery. For years, Vancouverites wandered into Gastown for Steamworks beer. Now, almost 20 years later, you can finally bring the brewpub home with you.  Steamworks Bottled Beer comes in six-packs of 650ml bottles including:
Pale Ale – Northwest style pale ale is a confident beer with citrusy character balanced with layers of malty goodness
Pilsner – an homage to the original pilsners of the Czech Republic, this full bodied beer has a spicy, herbal finish with hints of lemon.
Frambozen – Summer in a bottle. This seasonal favourite features ruby-red colour, with a luscious pink head.
Wheat Ale – A classic refreshing Belgian-Style wheat ale. This beer has fruity aromatics, coriander seed and curacao orange peel add spice and zest to the finish.