Through the VanEats.ca dining pass, Modern Mix Vancouver was given the opportunity to experience Cray Kitchen + Bar, a unique restaurant that offers something that other Vancouver restaurants have seemed to be missing – Crawfish. Located in the Mount Pleasant neighborhood of Main Street, Cray Kitchen + Bar features a menu that focuses on its specialty of Cajun seafood prepared with a strong Louisiana influence.
When you're inside the restaurant, it has a warm and upbeat ambiance. With starfish, fish netting, surfboards and more, the interiors of Cray Kitchen + Bar provide a relaxed dining experience to play tribute to their seafood-focused menu. No matter where you are seated in the restaurant, there are unique attributes for everyone to see within the room.
After having a chance to settle in, it was time to experience the food. I knew I was in for an exciting first experience of trying crawfish once the friendly server began explaining the menu.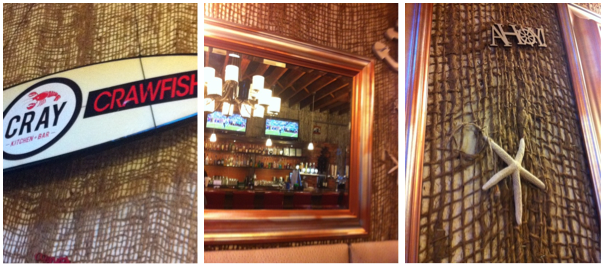 So what gives the crawfish its Louisiana twist? I'd have to say it was really fun to find out. With bibs, a pail, gloves and extra roll of towel paper provided, I knew that had a little something to do with it. But the biggest reason is the choice of four specialty sauces you choose for your crawfish and then having it served in a bag to lock in the flavours. When I began with my first crawfish, from the first bite, I realized this had to be the most adventurous and delicious meal I've ever had! My meal was also accompanied with crispy and savoury cod nuggets and Cajun fries with just enough of a spicy kick. Every bite was as good as its last.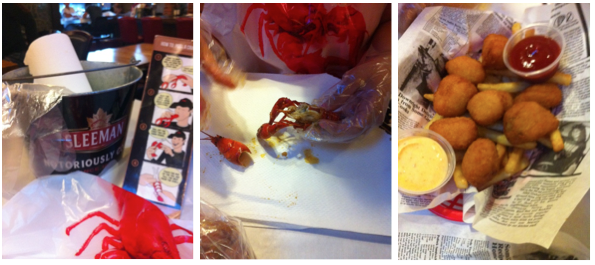 If you are like me and have never had crawfish before, there is nothing to worry about. Each table is given a handy instruction card that easily guides you through the four step process. I'd have to say I was able to master the steps by the time I was through my bag of crawfish! Plus, I ordered mine with the spicy Cray Mix seasoning, which was Juicy Cajun, Garlic Butter and Lemon Pepper seasonings all mixed together.
There are non-seafood items available on the menu as well such as chicken strips and burgers but I highly suggest that you take the opportunity to try what Cray Kitchen + Bar does best. So if you love seafood and are looking for a fun dining experience, I would definitely recommend Cray Kitchen + Bar. Bibs are included!
From now until December 6, 2012, you can purchase a "CRAY-VINGS" VanEats.ca dining pass for $18.50 and enjoy a 5-course set menu at Cray Kitchen and Bar.