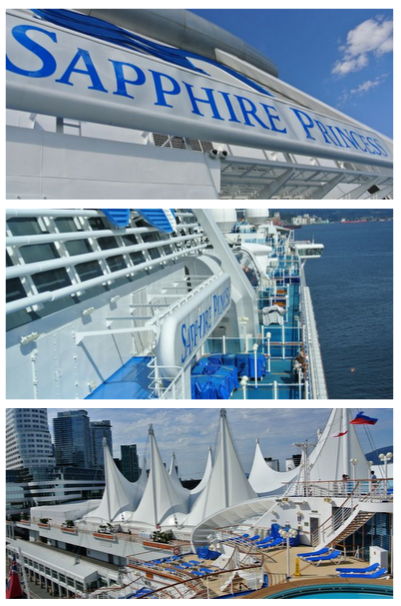 All aboard the Sapphire Princess!  A select group of Vancouver food and lifestyle bloggers were invited aboard the Sapphire Princess Cruise Ship to learn about what goes on behind the scene in cruise ship dining.  We were introduced to a international group of culinary specialists from around the world – including from the Phillipines, Canada and France.
Our first stop was Sabatini's Italian Restaurant and International Cafe.  With Italian dining, there is a large focus on family style dining – many of the menu items are made for sharing, such as pizza.  Pizza dough is made fresh on board and authentically Italian with flavours like the "Capricciosa" (artchock, prosciutto, mushrooms, black olives) and "Tarantina" (tomato, mozzarella, mussels, shrimp, capers).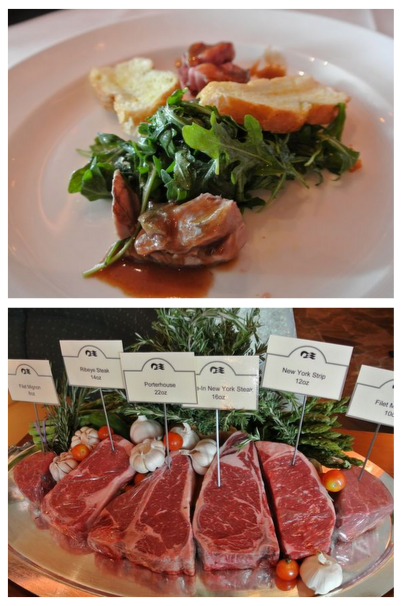 With two steak house restaurants on board (the Crown Grill and Sterling Steakhouse), a display of beef cuts were presented to us, including the rib eye (14 oz) porterhouse (22 oz) and bone-in New York steak (16 oz).  Meanwhile, the Chef's Table experience is catered towards dining enthusiasts with a special multi-course tasting dinner paired with selected wines with the chef himself.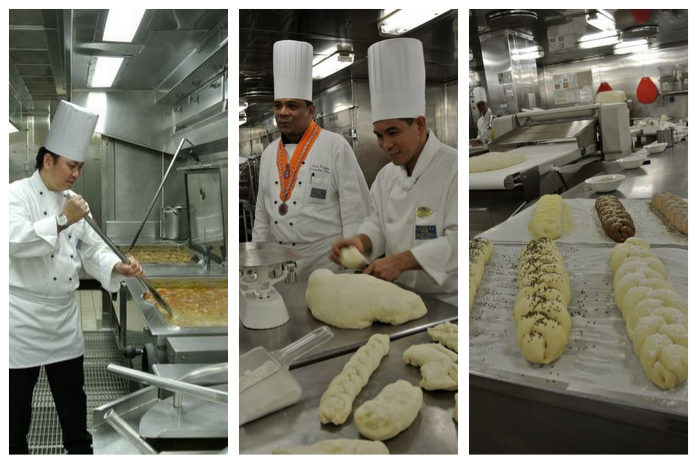 With over 2,000 passengers on board each week, you need a massive kitchen staff of 150 people to serve the crowd. We actually went behind the scenes into the massive kitchen of the Sapphire Princess.  Touring through a labyrinth of stainless steel, we passed by gigantic stations of sauces, pristine countertops, massive pantries and fridges and an ice-cream freezer.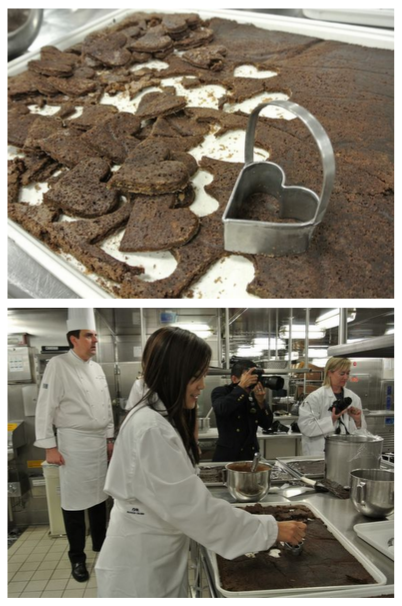 Little did we know, we had to work for our lunch aboard the cruise ship.  Shortly after entering the kitchen, we put on an oversized apron and got to work at the baking station.  First we braided fresh bread dough and added toppings of our choice such as sesame seeds and ground flax.  Then we went to the dessert area and spreading a thick brownie mix in a pan as well as cutting out baked brownie hearts in preparation for the Princess's famous "Love Boat" dessert.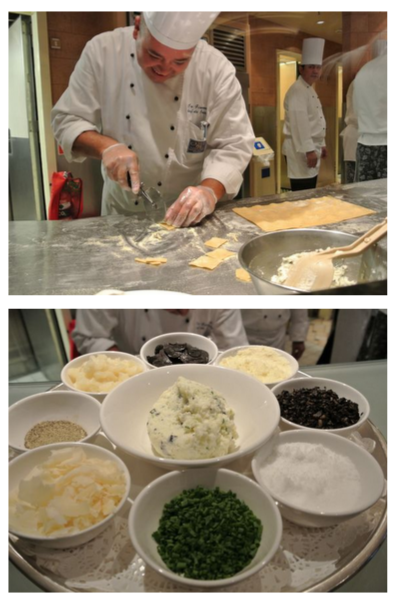 When we finally sat down for lunch (although we had already been nibbling on tasters at each stop of our tour), we could see through to an open concept kitchen and watched as the chef prepared fresh ravioli.  We sampled through the bread we made at the previous station, a creamy lobster risotto, ravioli and finally, the signature "love boat" dessert, a chocolate mousse cake with a brownie crust, which came from the brownie dough we saw in the kitchen.
Overall, this behind the scenes tour of the Sapphire Princess's food scene was a great eye-opener into what to expect onboard. They next time you're headed on a cruise aboard the Sapphire Princess, know that there is enough cuisine diversity to keep every passenger satisfied.