CocoaNymph – East Vancouver Grand Opening (September 22, 2012)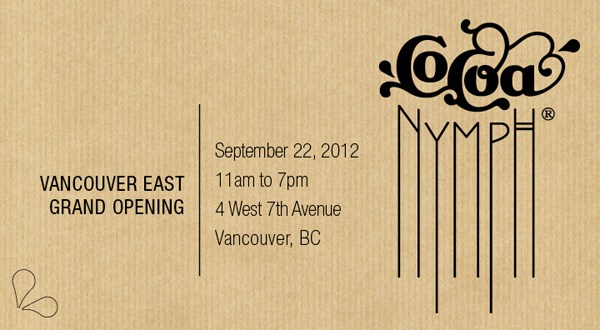 Chocolate lovers unite for the grand opening of CocoaNymph's second location at 4 West 7th Avenue. Come join the celebration on September 22, 2012 from 11am-7pm, where guests can enjoy live music, tasty treats, and take a tour of the new space, located just off of Main Street.  In addition to a "sinful selection of sweets", the new location will have a brunch and lunch menu featuring stuffed French toast, daily soups, and panini made from local charcuterie and cheeses.
Compared to CocoaNymph's 120 square foot kitchen space at its current Point Grey location, the new location is 10x that size at 1200 square feet.  "We went big with the new space," says owner and chocolatiere Rachel Sawatzky. "From our tiny 120 square foot kitchen to 1200 square feet of chocolatey goodness, our new home is bright and open."
So swing by on September 22, 2012 from 11am-7pm to scope out CocoaNymph East to taste samples, sip on a wine, tour the production facility, and listen to live music.