Vancouver's Inaugural Dîner en Blanc at the Convention Centre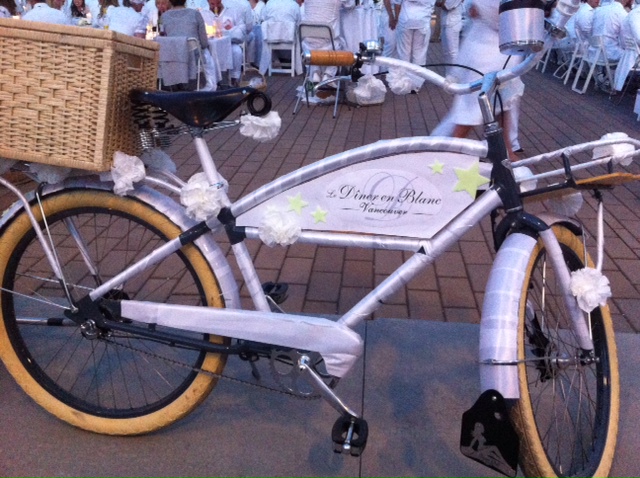 Dîner en Blanc originated in Paris over 20 years ago and has now expanded into a global phenomenon spanning 5 continents in cities including Montreal, Milan, Paris, Singapore, London and New York.   Taking the pop up concept to a refined and mysterious level, these romantic outdoor dinners are organized entirely via social media, and attended annually by as many as 15,000 people in cities around the world.
Part mystery, part magic, part je ne sais quoi, the day of the event unfolds the same in every city: the site is revealed at the last-minute to preserve spontaneity and secrecy. Guests meet at designated rallying points where Table Hosts will escort them to the secret location. All must dress in elegant white, bring their own epicurean meals (or pre-order from Chef Dale MacKay's three-course menu), non-disposable dinnerware, crystal, and table set. Over the course of the evening guests will celebrate French culture and dine amid live music and dancing. When it is time to leave, guests will pack all they arrived with and head into the night, no sign of their sophisticated revelry left behind.
Vancouver's inaugural Dîner en Blanc took place last night at the outdoor Jack Poole Plaza at Vancouver Convention Centre.  With the Olympic Torch and the Pacific Ocean as a backdrop, the 1,200-participant event proved to capture the joie de vivre French spirit for an unforgettable, whimsical evening.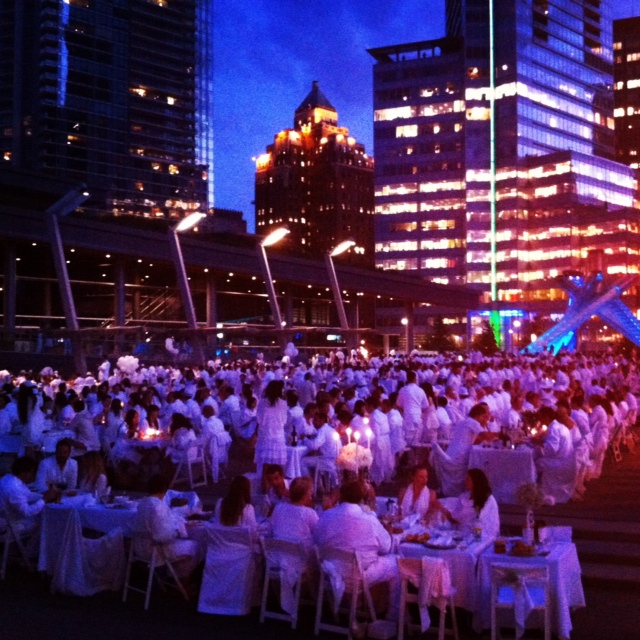 Chef Dale MacKay had two menu options, conceived and prepared uniquely for Diner en Blanc Vancouver.  Options included The Garden Harvest which included Tomato Bruschetta, Vegetable Crudite, Hummus, Pasta Salad and Artisan Chocolate, or The French Picnic, a classic French meets West Coast menu including Fraser Valley Pork Pate, Dry Cured Charcuterie, local Artisan Cheese with Candied Nuts and Fresh Grapes and Vanilla Panna Cotta.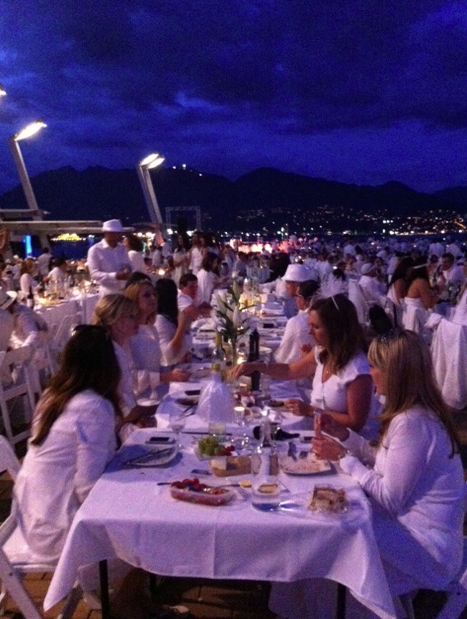 After dinner at 9:30pm, all the guests were called upon to light their sparklers, creating a magical sea of light and flashes.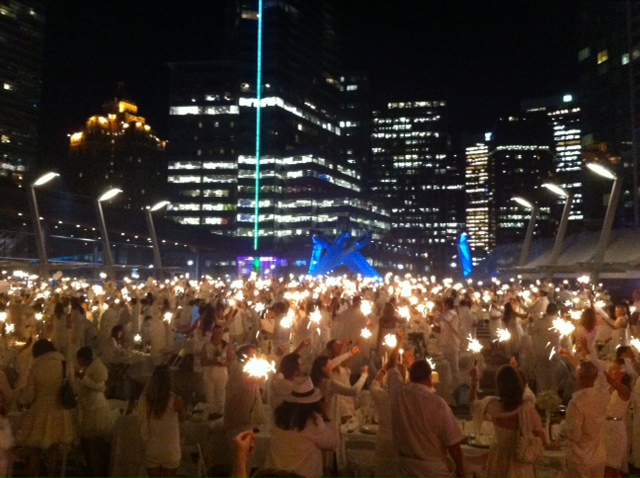 Now the dance floor is officially open and Dîner en Blanc participants can dance the rest of the evening to the internationally acclaimed French gypsy band Les Noces Gitanes as well as DJ Marc Founier playing for the outdoor disco.  At 10:30pm, a trumpet officially marks the end of the night – guests pack up and depart the same way they arrived – leaving nothing behind but a deserted plaza.  Save for fond memories of a whimsical night, did Dîner en Blanc even happen at all?
For more media coverage of Vancouver's Dîner en Blanc, check out The Vancouver Sun, CTV News or The Huffington Post.