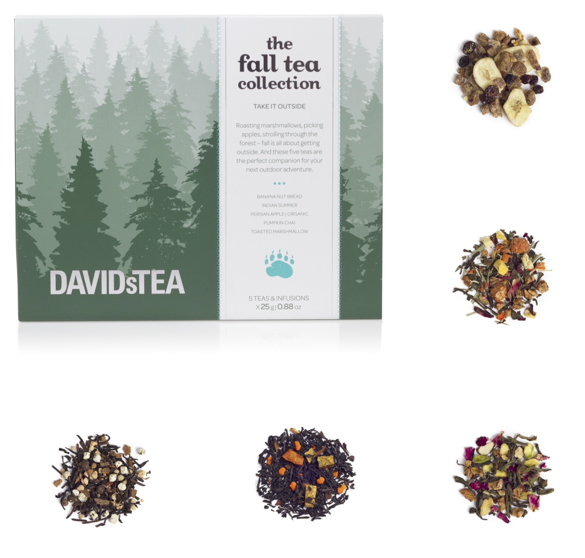 Pumpkin candies, freeze-dried banana, mini marshmallows, carrot and pistachio are some of the unconventional ingredients you'll encounter in the DAVIDsTEA Fall Collection.
Indian Summer – If you like fruity teas, you'll love Indian Summer.  In addition to tea leaves, there is an abundance of dried fruit including cherries and melon.
Banana Nut Bread – as I scooped out a teaspoon of Banana Nut Bread tea, I was surprised because there were no tea leaves in the packet!  This herbal "tea" is made with dates, currants, almonds, freeze-dried bananas.  Be sure to let the ingredients steep for the recommended 5 – 7 minutes or more to bring out the sweet flavour.  Any less time and the tea will taste too weak. Because of the unusual ingredients in this brew, don't be alarmed if your tea is a bit cloudy – it's normal!
Pumpkin Chai – this tea will take you all the way to Halloween.  I recommend adding milk to the Pumpkin Chai tea.
Persian Apple – tastes a bit like green apple gummies – I had high hopes for this organic tea (it was the first I opened up in the collection) but I thought the taste was a bit too tart. Nonetheless, the apple pie taste fits nicely into the DAVIDsTEA autumn theme – Also, I Googled "Persian Apple" and it is a slang term for a peach, so don't be confused by that – there is no peach in the flavour.
Toasted Marshmallow – has real mini marshmallows in the brew.  With the marshmallows, the tea tastes like sweetened water.
The DAVIDsTEA Fall Collection is available for $25.50 at all DAVIDsTEA locations. In Vancouver, this includes the West 4th Kitsilano location and the Oakridge Centre location.