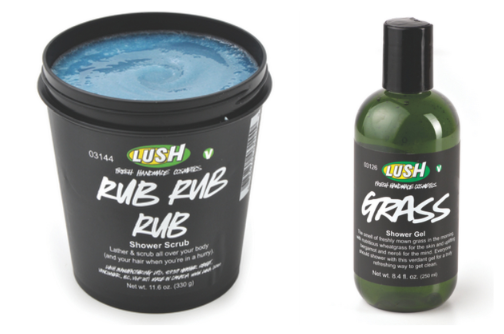 When it comes to summer time reminders, would you rather have the smell of freshly-cut grass, or the feel of warm sand on your body?  Now you can experience both with Lush Cosmetics' summer shower products.
Keep the beach nearby with the Rub Rub Rub Shower Scrub ($20). Don't be fooled (or alarmed) by the ocean blue colour of this scrub, the scent is actually a fresh, clean citrus.  The lemon juice in this concoction gently brightens skin while jasmine and orange blossoms leave behind a light tropical scent.  The sea salt is the perfect texture – coarse enough to slough off dead skin cells and revive your skin, but gentle enough so you won't hurt yourself.  Using a generous scoop in the shower, Rub Rub Rub lathered up quite nicely so I didn't have to use additional soap or shower gel to accompany this product.
Although the shower scrub is gentle enough to use on a daily basis, you can add some variety to your shower routine and bring the great outdoors inside with Grass Shower Gel ($10 – $28).  Another summer favourite, Grass is scented to remind you of the fresh cut lawn you were on during your summer picnic. If that doesn't make you smile then the neroli and bergamot oils definitely will, since they're both known to brighten moods and nourish skin.  The bergamot reminds me of earl grey tea (which is my favourite black tea).  With Lush Cosmetic's Grass shower gel, you're already on the greener side of the lawn.
As usual, with all their products, Lush follows a green policy in protecting people, animals and the planet.  Lush uses BPA-free, recycled packaging, natural ingredients where possible, and does not test on animals.  For more Lush product reviews on Modern Mix Vancouver, read up on Happy Feet and Emotional Brilliance.
What scents remind you of summer?