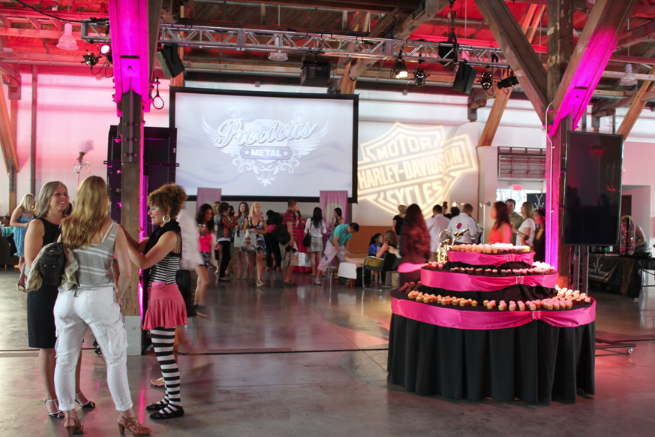 What do beautiful ladies, Harley Davidson motorcycles and the Canadian charity, Rethink Breast Cancer all have in common? We found out last Thursday when Modern Mix Vancouver attended the Harley-Davidson Precious Metal fundraiser at The Salt Building in the heart of the Olympic Village. This women-only event was hosted by Harley-Davidson in partnership with Rethink Breast Cancer to help fundraise and support the work that Rethink does to raise awareness amongst the under-40 crowd of young and influential breast cancer awareness supporters.
The evening was beautifully set up in the spacious Salt Building, with MC's Fiona Forbes (Shaw TV) and Nira Aurora (The Beat 94.5) entertaining the crowd with their witty humor and awesome giveaways. Guests were treated to everything from dancing acrobats to a Harley-Davidson fashion show to free pampering—yes free pampering!  Stila was on site to provide ladies with any touch-ups or powdering, while Noir Lash Lounge supplied glamorous and luscious fake lashes. Bombay Brow Bar, Cupcake Girls, Toy Watches and IS Salon were also generous supporters of the fundraiser. Proceeds from purchased goods at HD Precious Metals were donated partially or in full, to Rethink Breast Cancer.
Roaming Dragon was absolutely delicious and included duck confeit crepes, fried rice balls, salmon tare tare, tuna sliders, curry chicken wraps and more. And you can be sure the red and white wine were flowing, along with champagne, all very "girly" and "sassy" drinks for the occasion.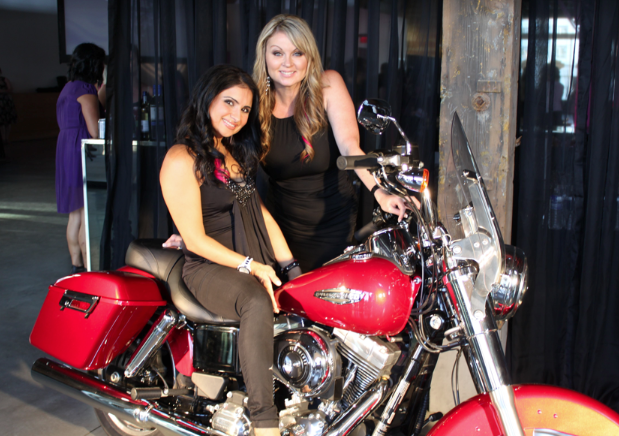 More important than the glitz and glam that night was the underlying cause the event was benefitting. With a younger woman in mind, Rethink Breast Cancer provides a new and modern perspective and way to think about breast cancer, including fun and stylish ways of supporting the cause as well as how to spot signs and prevent it from progressing. Rethink has a bold manifesto which is backed up in what they do to make breast cancer something that isn't uncomfortable to talk about.
It was inspiring and uplifting to know that of all groups out there, it's Harley-Davidson who recognizes the significance of Rethink's work, so much so to partner up with the charity and host this pink and perky event. There was also a sexy appeal to the event, because of the whole girl riding a motorcycle equation. Harley Davidson motorcycles were spotted throughout the space, giving ladies fun and sexy photo opportunities.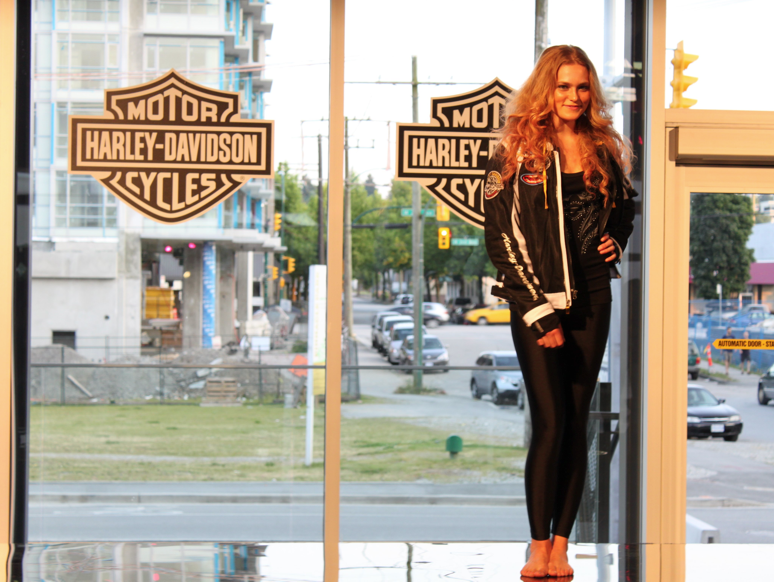 As rugged and tough as motorcycles may seem to be, Harley Davidson sure proved that they know how to throw a classy and tasteful party that appeals to the stylish and fashion-forward crowd—but then again, Harley Davidson products are nothing short of stylish, fashion-forward and sexy themselves! I had tonnes of fun at this event; thanks to Harley Davidson for hosting such a "precious" night that really in my opinion, put Vancouver right up there in terms of West Coast style, fashion and philanthropy.