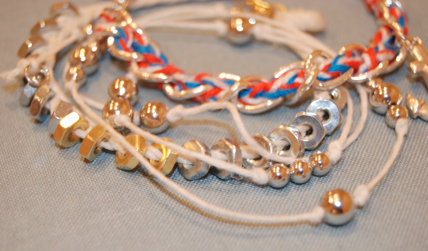 By Carolyn Fung, Modern Mix Vancouver writer
Known for her fashion/style blog Black is Black, Rachele Kehler is a true entrepreneur and jack-of-all-trades. Not only does she write, she makes beautiful jewelry, and is part of a band. Inspired by Pinterest, Rachele started dabbling in making bracelets less than a year ago, but you wouldn't guess it from the quality of the pieces she has put together.
Using a mixture of materials including leather, hexnuts and vintage charms, this Vancouver based designer has already created a collection that is on trend, unique, and totally irresistible. The best part? Her pieces are extremely affordable starting anywhere from $5.00 – $25.00.
But you won't find her in stores just yet. Instead, Rachele is trying a different approach.
Here are six reasons why we love her designs and what she has to offer:
All of her pieces are hand made, in Vancouver.
All of her pieces (bracelets and necklaces) are meant to be layered with others, for truly fool-proof styling.
She tries to incorporate versatility in her pieces. Bracelets that can be flipped over for a different look, or my personal favorite, a delicate layering piece that can also be worn as an elegant necklace (she has yet to name it, but I have a feeling it will become a signature piece!).
She loves experimenting with color, and the mixture of elements – gold and silver, which make matching super versatile and easy
She's got an eye for incorporating vintage pieces. My favorite, which I affectionately refer to as "two hearts" is a one of a kind piece she created based on a classic brass charm.
Most importantly, she wants to meet you.
Yes, its true. Rachele would rather set up time to meet with you to share her collection that go online or in stores. Before meeting with her, she knew I found chunkier, large bracelets intimidating so instead, she brought her collection of more delicate, subtle pieces to share. When we met, she also showed me how to layer some of her pieces to create a number of different looks that compliment my style.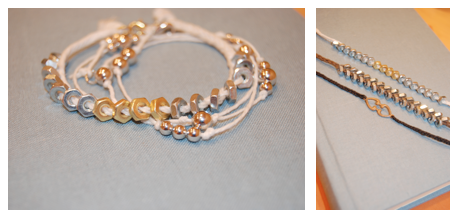 She may just be starting out, but Rachele Kehler is one designer to keep an eye out for. Because her collection is only available if you meet with her in person, you can be sure to have an experience that is truly customized to your style. To view her latest pieces, grab some friends or go solo! To set up an appointment, you can email Rachele through her blog.  You can also find images of her latest pieces on Pinterest or Facebook.