Food Cart Festival – Sundays at the Waldorf (July 29 to Sept 2)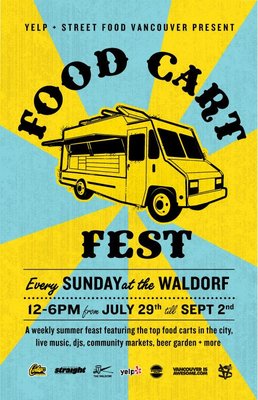 Vancouver loves their food carts! Beginning on Sunday July 29, The Waldorf (1489 East Hastings), Yelp and Street Food Vancouver will be presenting six Sundays of food, live music, shopping and fun! Participating food carts so far include La Brasserie, Soho Road, Off the Wagon, Re-Up, Juice Truck, Mom's Grilled Cheese, Cartel Taco, Streat Meat, Pig on the Street, Guanco, Holy Perogy, and more to be announced.
From week to week, the Food Cart Fest will be complimented by a series of community markets. The kickoff event will be curated by Jamie Leah Gill of Moonrock vintage clothing and jewelry. Over 50 vendors will be on hand to sell vintage and original clothing, accessories, art, jewelry, and home decor. Upcoming summer market will include a vintage market curated by The Chosen Ones, a farmers and artisan market, an outdoor book and comic sale, and more. These weekly events will also feature a 19+ beer garden in their outdoor tiki beach area, live musical performances and DJs.
This free admission event runs the rest of summer from July 29 to September 2, 12pm to 6pm, at The Waldorf at 1489 East Hastings.