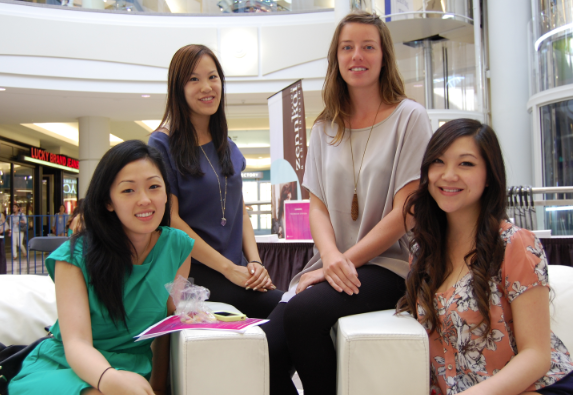 Last week, Modern Mix Vancouver was invited to a "Fashion Blogger Challenge" at Metropolis at Metrotown to kick-off their Find What You Love Sale (on now until July 22).  Facing off against Crystal Kwon of VanCityBuzz, Terri Potratz of The Conveyer Belt and Nicole Soon on behalf of The Style Spy, we were each armed with $100 to Metropolis at Metrotown and had two hours to find awesome deals.
When we regrouped at the end of the evening, it was super fun seeing what everyone else bought.  Terri purchased a fabulous pair of wide-legged black pants which could be worn high-waisted (great for anyone with long legs!), while Nicole and Crystal both matched coloured denim with cute summery tops and belts.  I loved how the turquoise necklace and pink belt Crystal chose accented the colours of the top she bought.  Some of the shops these ladies visited included Plen+y, Stitches, Suzy Shier and H&M.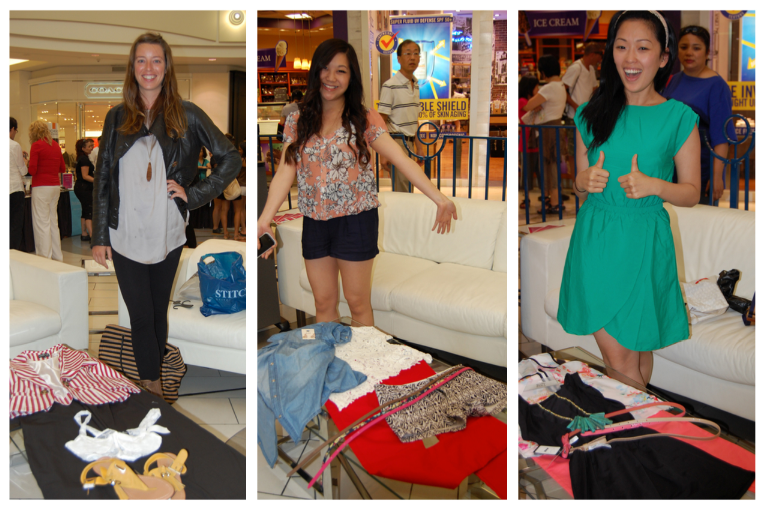 As for my shopping haul, I went to Zara, Aritzia, American Eagle and La Senza.  I think everyone was surprised I managed to really stretch my fashion dollars at seemingly more expensive shops like Aritzia and Zara.  But as I've learned from many, many years of retail therapy, the bigger the brand, the bigger the savings!  Some of my purchases include a mint green top with small white polka dots from Zara for $20 (down 50% from $40), as well as dress shorts from Aritzia for $35 (down 30% from $50).  As a result, I officially won the Fashion Blogger Challenge and received an additional $200 to spend at Metropolis at Metrotown.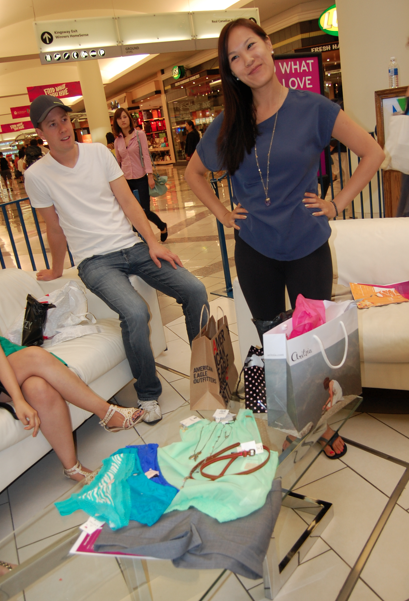 The fashion blogger challenge was super fun but, but due to the time constraints of the challenge, more stressful than it sounds.  Metropolis at Metrotown has an incredible variety of over 450 shops and services as British Columbia's largest shopping centre!  Here are nine things I learned about maximizing your shopping experience at Metropolis at Metrotown from this experience:
Arm yourself with a store directory – if you are unfamiliar with the mall, it's helpful to know what shops you are close to and group them together.
Plan out your shopping route – it ensures you aren't wasting time running back and forth to different wings.
Pay attention to sale signage – if it has big "70% off" covering the windows, there's probably a sale going on 🙂
The more expensive the brand, the bigger the savings – saving 70% off a $10 items saves you $7. But if you apply that same discount to a $100 item, you save $70!
Not all sale and clearance items are clearly marked – for example, at American Eagle, I found jewelry on sale (from $16-ish down to $12-ish). However, when I went up to the cash register to pay, she let me know that all discounted jewelry was on clearance for 3 for $10!
Know your sizing beforehand – there were long line ups for the changeroom at Zara but I had the luxury of knowing my size already.
Clearance bins marked by size are a timesaver – for example, La Senza had a clearance section marked by size so I only riffle through colours and patterns, rather than checking every item for sizing too.
Don't forget to accessorize – all four of us bloggers purchased accessories to complete our outfits, whether they were cute shoes, colourful skinny belts, necklaces or underwear.
Buy presents in advance – when it's sale season, you don't have to be on the lookout only for yourself – buy sale items gifts in advance for your friends, family, coworkers, teachers and significant others!  Beyond just birthdays, there are so many other gift giving occasions including anniversaries, weddings and housewarmings so don't forget about these as well.
Happy shopping! And don't forget you have from now until July 22nd to check out Metropolis at Metrotown's Find What You Love sale.