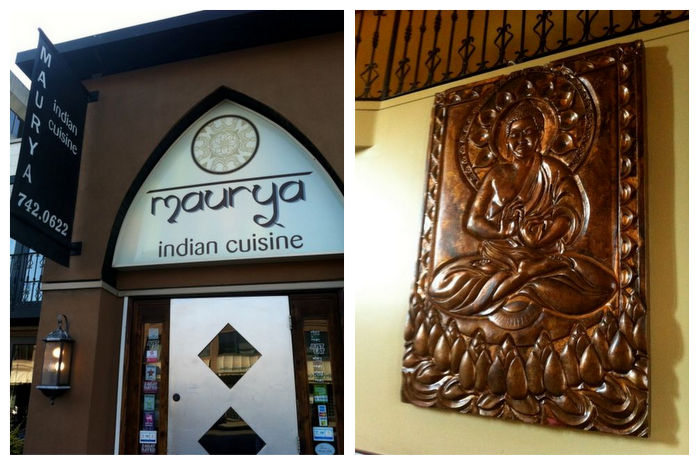 Tonight was not my first time visiting Maurya – in fact, this upscale Indian restaurant on West Broadway is one of my favourite Indian restaurants in the city. For tonight's occasion of visiting Maurya, I went on behalf of a VanEats.ca dining pass – $18 for a 6-item set menu.
Think of VanEats.ca as a cross between Dine Out Vancouver and Groupon.  Like Dine Out Vancouver, a multiple-course set menu is pre-determined with restaurants around Vancouver. Like Groupon, passes for multiple restaurants are available at the same time, but only a limited number of passes are available per restaurant.  You buy your pass online, and show the receipt to your server and voila, you can now "get your eat on"!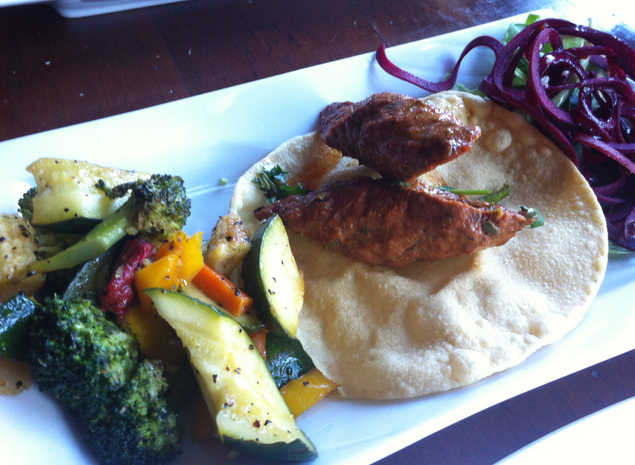 At Maurya, all the courses in the "Maurya Spice" dining package were served at the same time.  What could be considered a salad appetizer was the "Mixed Greens & Beets Salad" which was lightly tossed in a delicious sweet vinaigrette. On the same plate was the "Seekh Kebab", a minced lamb sausage and "Mixed Vegetables" of broccoli, zucchini and bell peppers.  As Indian food is typically quite creamy, the veggies were a great compliment to meal and the salad was deliciously refreshing.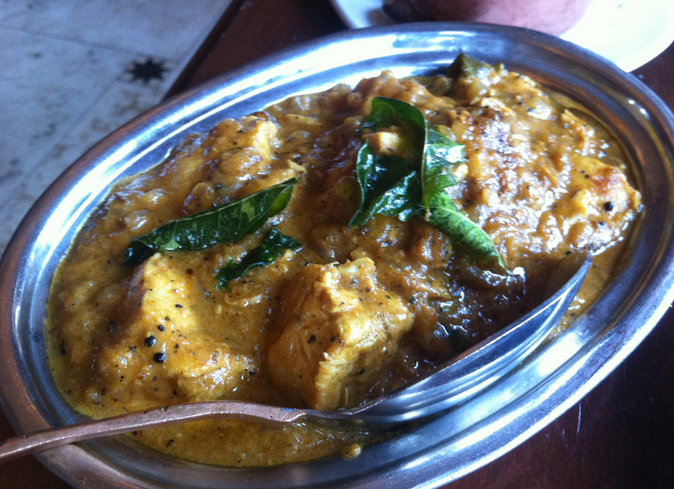 The main dish was the "Chicken Chettinad", tender, marinated chicken cubes in a creamy paste of coconut and poppy seeds.  This dish was an award-winner for Dine Out Vancouver in 2009!  The portion looks small, but it was extremely filling. I'll be having leftover chicken chettinad for lunch tomorrow!
On the side, we were served a small portion of "Daal Maurya" which consists of lentils cooked overnight into a thick sauce.  There was definitely a spicy kick to it, but it surprisingly didn't leave my mouth with a burning aftertaste (as many spicy dishes do).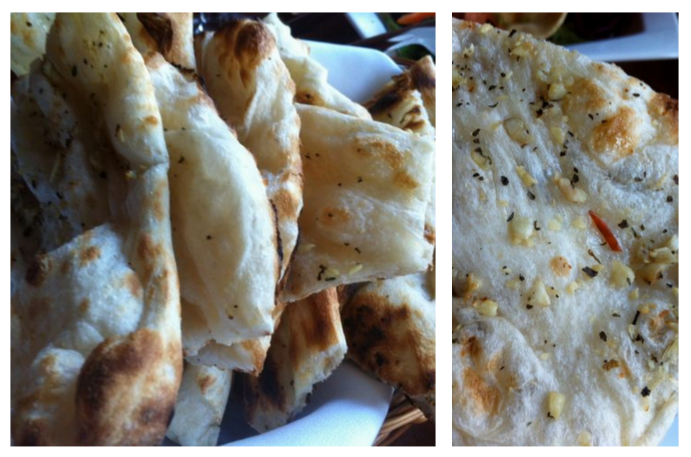 For all these saucy dishes, no Indian meal is complete without a basket of Naan bread served with the meal! As you can see from the image above, there's a generous sprinkling of chopped garlic on the naan!
If this restaurant review is starting to make your mouth water, not to worry – you can replicate my dining experience for only $18 with the Maurya's Spice package VanEats.ca.  Hurry – there are only a limited number of passes available so get yours quick!
For more information, watch this VanEats.ca video below: