Motts Clamato British Columbia Caesar
In honor of Canada Day, Mott's Clamato has created eleven new Caesars in the third annual "Coast-to-Coast Caesar Toast".  A total of eleven new Caesars – one in honour of each of our provinces, and one for our territories, were created to commemorate the diversity of our country from coast-to-coast.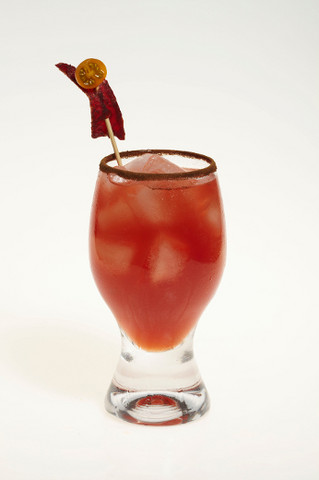 "A study released at the end of 2011 showed that Asian immigration to Canada is impacting our national palate. When the result is a cocktail as delicious as this one, we say bring it on. Of course, it's not a Caesar without a Canadian spin, provided here by the BC salmon jerky that tops off the drink."
Rim – Chinese Five-Spice / Fresh Cracked Salt and Pepper
1 oz – Victoria Gin
1/2 Bar Spoon – Siracha Hot Sauce
1/2 Bar Spoon – Oyster Sauce
3 grinds – Fresh Cracked Black Pepper
5 dashes – Worcestershire
4 oz -Mott's Clamato
Garnish – Salmon Jerky
1. Combine all ingredients in a mixing glass with ice.
2. Roll three times with another glass.
3. Rim serving glass and fill with ice.
4. Strain the Caesar into the serving glass, garnish.