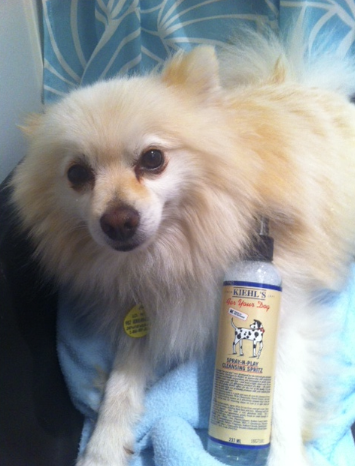 After being a long-time reviewer of Kiehl's on Modern Mix Vancouver (which includes: attending the opening of Kiehl's Robson, being a preliminary tester of the photo age tester, and a user of the Ultra Facial Oil Free moisturizer), I thought I knew everything about the brand and its product lines.  However, at the media opening of Kiehl's at Richmond centre, I discovered Kiehl's pet grooming products!  A small collection of three products, these were introduced "for the beloved pets of Kiehl's patrons…who deserve the same quality Kiehl's offers for the rest of the family" and developed in partnership with professional groomers.
My dog Teddy Bear is a long-haired Pomeranian who should only be getting a thorough wash every 2 to 3 months in order to retain the natural protective barrier and moisture in his skin.  The Spray-N-Play Cleansing Spritz ($16) is ideally used between pet grooming sessions as a mild, quick and easy all-over spray shampoo to keep your dog smelling fresh.
Because the product is in a spray bottle, I think the spritz startled Teddy Bear – which is why it's important to spray 10cm to 15cm away from your dog's body so the spritz is more misty and less concentrated.  Although the spray bottle is a simple, convenient idea, I wish there was another way to apply the product without startling my small dog.  After a couple of sprays on his back, I took a small hand towel and rubbed the product in and dried him off.  Teddy's coat definitely felt cleaner after the spray and he was left with a very mild, subtle and fresh lavender scent on his fur.
In addition to the Spray-N-Play Cleaning Spritz, the Cuddly-Coat Grooming Shampoo ($20) and Cuddly-Coat Conditioning Rinse are also available at Kiehl's.