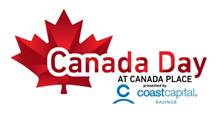 Canada Place is gearing up for the 25th Anniversary edition of Canada Day at Canada Place – Canada's largest birthday celebration outside of Ottawa.  The full lineup of activities and attractions will include 25+ musical and dance acts, the 65 foot tall Northwest Territories Dome and  "Canuck Road" where you'll see street hockey, lumberjack show and the giant beavers from the Vancouver 2010 Olympic Games Closing Ceremonies. Other highlights include the ever-popular Citizenship Ceremony and "The Penny Party" where Canada Place will be collecting soon-to-be-retired Canadian pennies for a variety of local charities.
See below for some highlights of this year's exciting activities and attractions:
Canada Day Featured Performances – The inspirational all Canadian line up includes headline performance by Spirit of the West, who will be joined by local perennial favourite the Dal Richards Orchestra, Alex Cuba, Alpha Yaya Diallo, Dr. Strangelove and more than 25 music and dance acts on three stages.
Northwest Territories Dome – Visit the a 65 foot tall geodesic dome and experience the natural beauty, culture and adventure of a year in the Northwest Territories through visual projections, static imagery, interpretive panels, music, and more.
Canuck Road (Canada Place Way) – Take a stroll down Canuck Road and catch the West Coast Lumberjack Show or take a photo with the giant beavers from the 2010 Olympic Games Closing Ceremony. Enjoy Canadian inspired food from local vendors, participate in a game of street hockey.
The Penny Party – Collect your pennies! Guests are encouraged to bring their soon-to-be discontinued pennies to help support local and national charities.
Great Canadian Art Experience – Canadian artist William Meire will be bringing back his Face of Canada Exhibit and introduce his new collection, Canada's Landscapes. At the Art Expression Lounge guests can create their own art with digital graffiti and Canadian inspired origami projects.
Canada Day Parade – The highly anticipated fun and festive annual parade begins at 7pm at Broughton and West Georgia and travels through downtown ending at Canada Place.
Canada Day Burrard Inlet Fireworks Show – The dazzling two-barge fireworks show starts at 10:30pm. A ticketed reserved fireworks viewing area is available at Canada Place. All proceeds from ticket sales through ticketmaster.ca will be donated to Canada Place's charity partner, the Strathcona Community Centre. Tickets: $10 for adults and free for kids 12 & under (accompanied by adult).
For more information and full event listings, click here.