Custom Toms from Twigg&Hottie (Sunday June 17)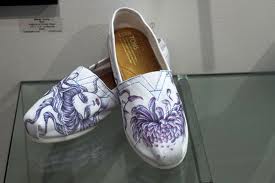 Style your soles at Twigg&Hottie (3671 Main Street) on Sunday June 17th (11am to 6pm).  Toms are a great pair of shoes with a good cause but it's hard to stand out from the crowd when wearing them. So Twigg&Hottie has invited three local artists to take over their Main St. boutique to customize your freshly purchased Toms on Sunday June 17. 
Artists Mandy Tsung, Kristian Adam and Nomi Chi will showcase their creativity with a purpose. With every pair of shoes they artistically customize, a new pair of Toms will be donated to a child in need.