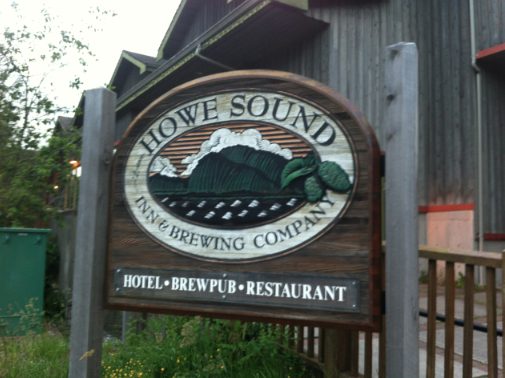 The Howe Sound Inn & Brewing Company is a boutique hotel located in the town centre of Squamish, BC.  I recently had dinner at the Howe Sound Brewpub on my way home from hiking The Chief.  I liked the cabin environment of the brewpub, it reminded me of a ski chalet where everyone is just hanging out after a day up on the slopes.
The dinner menu is a typical comfort food menu – which is exactly what you're craving after a 3 hour hike up and down a mountain.  For example: yam fries with curry mayo ($7), spinich and artichoke dip with stone-fired flatbread ($10), three bean chili ($8), handmade pizzas ($12-$15) and burgers and sandwiches ($11-$15).  I ordered from the lamb pot pie ($13) from the Brewpub Features section, which was a hearty, baked dish that came with fries.
And of course, you can't be at a brewpub without trying at least one of their beers!  We ordered the 4 Way Fruit Ale which was a featured beer at the recent Vancouver Craft Beer Week "Sisters of the Tap" event.  The 4 Way Fruit Ale is a tropical combination of mango, passionfruit, raspberry and pomegranate.  Made with only 100% fruit purees with no fruit essences or artificial flavours added, this beer consists of a very apparent and authentic fruity flavour and aroma.
Unfortunately, the service we experienced wasn't the best. Our waitress was inattentive and seemed to be a bit distracted.  Nonetheless, food, drink and general environment was chill and enjoyable and I'd come back if I find myself out in Squamish again!
Located a 45 minute drive from downtown Vancouver, the Howe Sound Brew Pub is worth the drive out for beer enthusiasts or a great stopover on your way back to Vancouver from hiking The Chief, or enjoying one of Squamish's many other outdoor recreational activities.