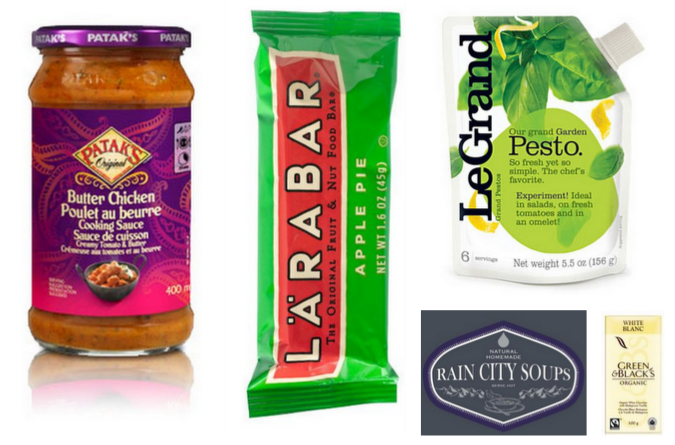 Modern Mix Vancouver was recently at Eat! Vancouver, an annual food and cooking festival held this year at BC Place.  With over 250 exhibitor booths, showcasing everything from breakfast granola to dairy free "cheese" to chips & dip to miso soup, we were snacking on food samples all afternoon.
It was hard to whittle down our list of favourite exhibitors, but we managed to choose five products we'd love to keep in our cupboards (or freezers) for upcoming meals:
LeGrand's Pesto – Fresh, gluten-free, vegan (some varieties) pestos full of bold flavours in fresh, modern packaging.  Pesto is an extremely versatile product and can be used in pizza, pasta, sandwiches, quesadillas and many other simple meals.
Rain City Soups – Natural, handmade artisan soups which are great to keep in your freezer for a simple but hearty meal. Comes in four varieties: Butternut Squash & Fennel, Smoked Chicken Corn Chowder, Minestroni and Lemon Thyme Chicken Noodle.
Patak's Original – For those of us who enjoy Indian food but don't know how to mix spices and sauce from scratch, Patak's Original allows you to "discover the flavours of India" with a variety of cooking sauces. Soon you'll be whipping up butter chicken or curry like a pro!  Although Patak's wasn't sampling at the event, I've used curry sauce in the past and I often keep several jars stocked up in my cupboard.
Larabar – A brand of healthy energy bar which are dairy free, soy free, vegan and gluten free.  Great as a hiking snack (ie. while hiking The Chief) and potentially a breakfast substitute – they sure are hearty enough!
Green & Black's Chocolate Bars – Green & Black's premium organic chocolate made with ingredients which are ethically sourced.  Feel good about eating chocolate – particularly the white chocolate variety, which has a creamy melt-in-your-mouth texture.
This was probably one of my favourite years at Eat! Vancouver and I'm looking forward to attending again in 2013.