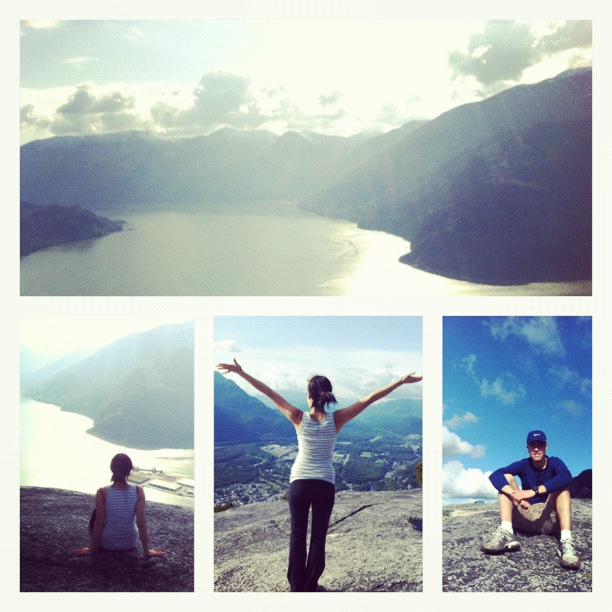 Last weekend, for the first time, I hiked the Stawamus Chief in Squamish. Often compared to a longer, but slightly less intense version of the Grouse Grind – a big difference is that you have to hike back down to the bottom because there's no luxury of gondolas at the top to bring you back down from any of the three peaks.
I'm not really a super outdoorsy person, but hiking appealed to me because it is a free activity with minimal skill level required!  I went in the afternoon to avoid the mid-day sun. For the most part, the hike is in the shade, underneath the canopy of tall forest trees. The hike up took me about an hour and a half.  The trail is well-defined, some parts had wooden stairs, other parts had crooked rocky steps. On occasion, you'll have to put your hands on the rock to make small climbs up.
Towards the last 15 minutes of the hike up, I was surprised at how steep and rocky the trail became.  It was definitely a change of pace from the walk through dirt because now you're climbing boulders on your hands and feet.  To get up to the first peak, you also have to climb up two metal ladders, as well as steady yourself using heavy-duty chains which are cemented into the rock.  If you're ever uncertain about where to climb next, use your hands to steady yourself and stay low to keep balanced.  You may want to wear a pair of cheapo gloves if you don't want to scratch your hands.  Once you're at the rocky part, you know you've almost made it to the top!
If you're lucky enough to plan your hike for a sunny day, at the top of the peak, it's nice to just lay out and relax at the top and enjoy the beautiful view. I've heard of people bringing up snacks and having a picnic at the top.
As for the hike back down, the rocky part is the hardest.  Sometimes it's easier to go backwards and climb down the boulders, rather than facing downhill.  Once you get back onto the dirt/forest trails, the rest of the hike is easy, compared to what you just went through.  My knees felt a bit like jelly towards the bottom but it's normal!
In conclusion, if you're looking for a change from the Grouse Grind and can get out to Squamish, check out The Chief.  If I can do it, so can you!