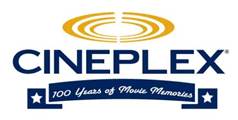 It's been a long-standing Cineplex promotion to offer discounted movie tickets on Tuesdays.  Just today, Cineplex Entertainment announced an enhancement to its longstanding Tuesday ticket price discounts.  With the launch of Cineplex Tuesdays, guests will receive as much as a 40 per cent discount on general admission Tuesday movie tickets.  The offer gets even sweeter for SCENE members, who will now receive an additional 10 per cent discount on Tuesday admissions.
SCENE is the popular rewards program from Cineplex Entertainment and Scotiabank.  The program provides more than 3.6 million members across Canada with the opportunity to earn and redeem points for movie admissions, concession combos, music, DVDs, movie downloads and more.  SCENE members also receive a 10 per cent discount on movie snacks.
"Tuesday movie discounts are part of our history and a great way to provide our guests with added value," said Pat Marshall, Vice President, Communications and Investor Relations, Cineplex Entertainment.  "Providing SCENE members with an enhanced Tuesday admission discount is consistent with our philosophy that members get more."
The Cineplex Tuesday discounts also apply to premium admission tickets, which offer access to VIP and UltraAVX™ auditoriums, as well as theatres enabled with RealD 3D and IMAX technologies.
Next time someone asks you when you want to watch a movie, the answer is Tuesday!