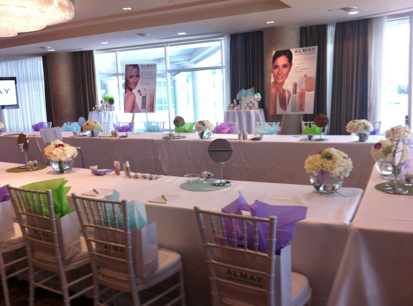 Modern Mix Vancouver was recently invited to Almay's Makeup Made Simple Event at the Pan Pacific hotel downtown. Everything in the room was fresh and bright as the team from Revlon prepared to educate us about Almay's newest products.
In 1931, as with all love stories, something magical happened. With nothing currently available for his wife's sensitive skin, Al, set off to create a line of makeup that would cater specifically to his wife, and her name was May. Fast forward to 2012 and Almay continues to re-invent themselves under his foundation to create an exclusive line of products for women with sensitive skin.
Beauty doesn't have to be complicated and that is what Almay has focused their newest collection of makeup and cosmetics on. Here's a look at some of the things that caught our eye during this event for the modern day woman:
Oil Free Makeup Remover Sticks ($7.99) – These convenient little cotton sticks are the lifesaver for any woman who has experienced raccoon eyes mid day or may need a quick fix without having to start from scratch. Each cotton swab is individually filled with the Almay oil free makeup remover formula. All you have to do is break the top off end with the colored ring and allow the liquid to flow down filling the opposite tip. It takes seconds and is one of the most useful tools we've yet to use!
In the world of face makeup, this June, Almay will be launching, the Wake-Up Collection. This collection will consist of four main products ranging from the always-affordable price point of $8.95 to $16.95. Here's a look of what's to come:
Almay Wake up Liquid Makeup ($16.95) – The perfect base layer for tired looking skin with SPF 20 so you don't have to worry about the extra layer of sunscreen.
Almay Wake Up Eyeliner + Highlighter ($8.95) – The dual-ended eyeliner defines and brightens tired eyes. Bonus: The highlighter soothes as it provides a noticeable cooling sensation upon contact, a welcome feeling for tired eyes!
Almay Wakeup Blush + Highlighter ($12.95) – For a brighter complexion this 2 in 1 duo includes an angled brush allowing for foolproof application with instruction so you can't go wrong.
Almay Wakupe Eyeshadow + Primer ($10.95) – Primer + power shadow trio so you don't have to think about what colors work together. The colors can be layered on top of each other for a more dramatic look or kept simple, for a fresh, well rested and energized look.
Hypoallergenic, ophthalmologist and dermatologist tested, all of Almay's products are oil and fragrance free. At such an affordable price Almay is ready to arm you for a summer full of healthy and beautiful skin!  If you're looking for more beauty products which'll give you the best bang for you buck, get cheap and fine makeup products here.