By Kuan Ho, Modern Mix Vancouver writer
Office-folk rejoice! It is no longer necessary to make the 15 minute pilgrimage to Victory Square for a delicious sandwich. Meat & Bread recently opened the doors to its second location on the corner of Pender and Burrard. For those uninitiated, check out its spot on Food Network's "Diners, Drive-Ins, and Dives":
The new location features a slightly different menu, but the Porchetta ($8) is still the main showcase. The other three sandwich choices are: Corned Beef ($8), Vegetarian ($7), and a daily special ($9). I had the Porchetta sandwich this time around – free-range grain-fed pork, deboned, rolled, and slow roasted. The pork pieces are soft, juicy and savoury while crispy bits of skin give a nice contrast every few bites. The salsa verde adds some herby flavors to the sandwich and balances well with the fatty pork morsels.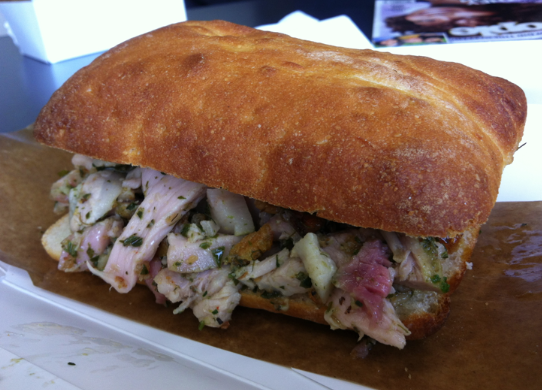 Lineups begin at about 11:30, but it moves pretty quickly. There is a long table inside for patrons to enjoy their meal indoors, but most prefer to get it boxed up and sit on the steps outside to enjoy the sunshine. Meat & Bread is open 11 to 5 Monday to Friday.