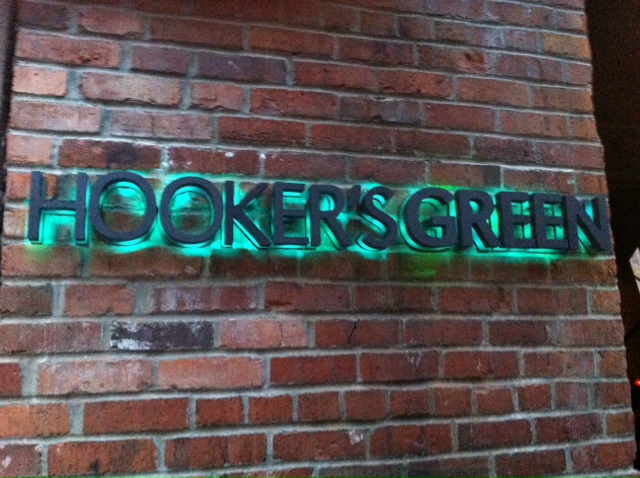 The Donnelly Group has launched its latest venue, Hooker's Green, located directly downstairs from the New Oxford (1144 Homer Street), serving as a rec room for the popular Yaletown venue. A winding raw metal stairway connects the two rooms, effectively creating the largest, most versatile local in the neighborhood. Alternatively, you can also enter Hooker's Green directly from Hamilton Street. Dimly lit, the interior sports a games area, well-placed HDTVs, a library and of course a bar stocked to impress.
Not to be mistaken with ladies of the night, Hooker's Green takes its name from a unique shade of green, created by 18th century botanical artist William J. Hooker. The space is complimented by a large covered patio, a massive wooden bar, its own library and of course a well-stocked bar and stimulating cocktail and beer menu. Tight-knit staff turn out great drinks and pour from a carefully chosen rotating craft beer list while live bands and DJs give the sound system a nightly workout.
For fruity cocktail lovers, try "Strawberry Cup" ($9), which is a blend of Pimm's No. 1 Cup, lemon juice and ginger ale muddled with a generous serving of fresh strawberries.  With Strawberry Cup, by the end of your drink, you may need a spoon to scoop out and eat all the strawberry slices!