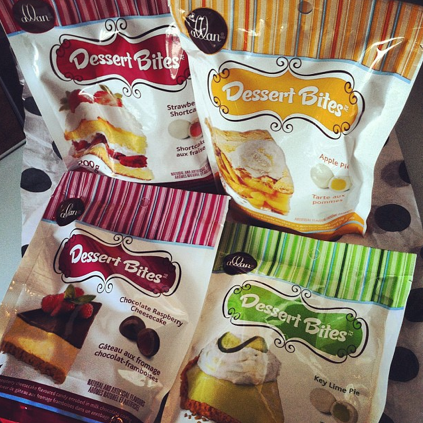 I was recently sent some sweet goodies from the Canadian confectionary brand, the Allan Candy Company. Its latest creation are "Dessert Bites" which are soft and chewy bite-size candies combined with a creamy coating in four dessert-inspired flavours: Strawberry Shortcake, Key Lime Pie, Chocolate Raspberry Cheesecake and Apple Pie.
One glance at the packaging and you know that these sweet nibbles are targeted towards women –  with the striped girly packaging and swirls around the logo.  These would be a pretty snack to have at a tea party or something along the lines of that.  My favourite has been the key lime pie flavour which is coated in white chocolate, with a bright green sweet lime jelly in the centre.
A 200-gram bag of Dessert Bites retails for $3.99 and is available at most grocery, mass merchandise and convenience stores – I've already seen them on the shelves at London Drugs.