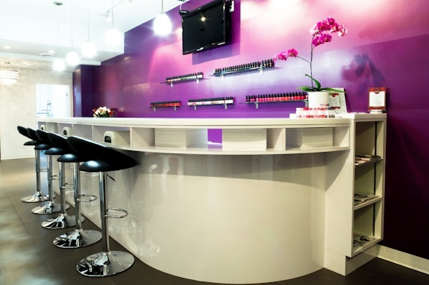 I admit, I do not frequent the nail salon as often as I should (just look at my boy nails and you'll understand), but I have gotten my nails done a couple of times for special occasions so I know how nice it is to be pampered and the wonders that nail salons do for us ladies and our cuticles. But what a treat it was to visit Spoiled Nail Bar, a sleek and sassy version of the traditional nail salon that I–along with many others I assume–are used to seeing.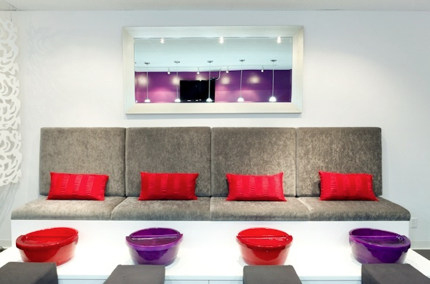 I had the pleasure of attending Spoiled Nail Bar's official launch party awhile ago, which hosted lifestyle and fashion bloggers and writers. The event was intimate and offered guests a sneak peek of the new store as well as its services, with nail technicians doing nails for the earlier part of the evening. Spoiled Nail Bar is a modern version of your traditional nail salon, located on West Broadway, close to Hemlock.
This fresh and modern rationale explains why the salon is called a "bar" and is even set up like one for your nails. The bright space has a large counter similar to one in a pub/bar, butis innovatively designed to efficiently cut, buffer and polish your nails. There are even high chairs which also add style to the already trendy nail bar, that has a vibrant purple, red and white theme. Spoiled Nail Bar's owner, Wendy Chiang says she is excited about her new business venture that offers a wide range of services including bare and beautiful or glammed up nails, all at affordable prices.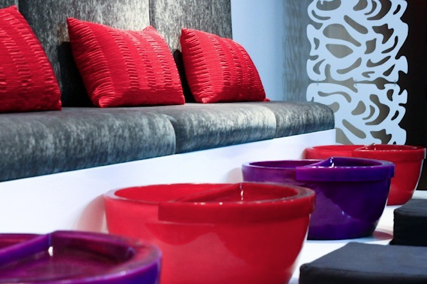 The warm purple and red accents, which can be seen throughout Spoiled Nail Bar on the walls, furniture and decor, really emphasize its uupscale and ritzy feel, which is exactly what girls want when getting a manicure or pedicure–it all adds to the experience when visiting the new and hip nail bar.
Though french manicures and pedicures are always popular, Wendy told me that at the moment she's seeing a lot of ladies come in to get gel enhancements for their nails, which are essentially a gel covering that is applied to nails and cured under ultra violet light, resulting in strengthening and length extension of your nails. Gel enhancements are common and ideal for brittle, soft, or weak nails. But aside from gel enhancements, there are also the typical services you would see in a nail salon which include express manicures, pedicures, or both if you really feel like spoiling yourself!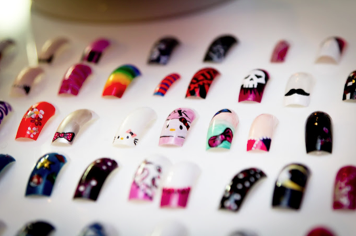 And if you're thinking of what to do with your girlfriends the next time you get together, Spoiled Nail Bar offers parties for groups of up to 20, where you can watch movies, listen to music or just chit chat with your girlfriends while getting your nails done.
If this is the first time you've heard of Spoiled Nail Bar, there's no better time to drop by and pay them a visit this weekend.  To celebrate Mother's Day, Spoiled Nail Bar is offering a promotion on their Spoiled Combo for you and your Mom: A "Me Me Me Mani + Pamper Me Pedi = Spoiled fingers and toes" for only $42! To find out more about this Mother's Day special and more, visit their website. Spoil yourself and your nails at Spoiled Nail Bar. You deserve it!