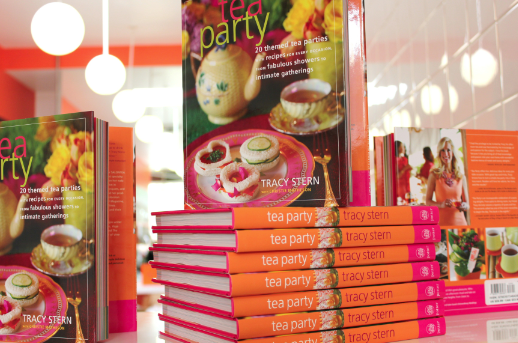 "Experience the civilized pleasures of the salon with fine SALONTEAs"—Tracy Stern
This past weekend, Modern Mix Vancouver was invited to a lavish and modern day tea party on South Granville at the official Canadian launch of Tracy Stern's' SALONTEA.  The concept originated from New York, which explains its stylish name as well as its ability to draw together some of the trendiest from Vancouver's lifestyle scene. The glamorous Tracy Stern, CEO and visionary of SALONTEA, and author of "Tea Party: 20 themed tea parties" book, was available at the event for interviews and autograph signings.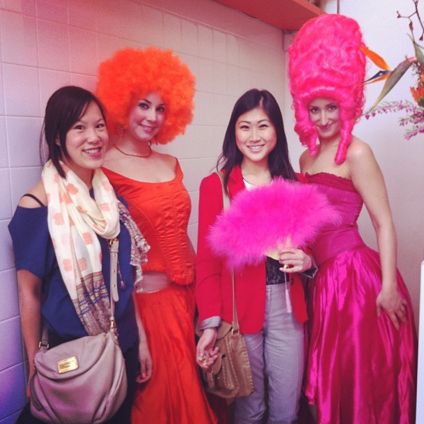 Tracy Stern's SALONTEA is a unique and one of a kind tea boutique, serving your traditional teas and treats, but in an environment that is not your typical Vancouver tea house. Walk into SALONTEA and immediately be dazzled by its high ceilings, bright accents (mainly orange, pink and brown), splashed against the store's shiny white tile walls. It feels like you are in an adorned salon or boutique, as its design and interior decor is decorative, fresh and contemporary.
And of course as it is a tea house, you can purchase high tea for two or more, complete with your choice of their beautifully named teas like The Musician (rooibos), The Writer (Indian chai), The Romantic (green tea), The Lover (chocolate chai), The Natural Beauty (rooibos), The Sleeping Beauty (chamomile), and The Fashionable Dandy (black tea). All very sensuous and seductive names, and very appropriate for the entire experience SALONTEA has to offer.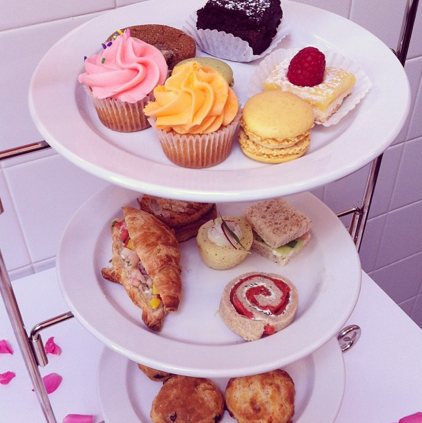 To enhance the baroque SALONTEA house experience at the grand opening, there were two girls dressed in bright pink and orange Mary Antoinette costumes—from head to toe (yes they even wore pink and orange wigs!) And of course, what's a tea party without the teas and sweet and savory treats?  Guests were invited to try a few different SALONTEA favorites like iced chai latte, infused iced romantic green tea with jasmine and pomegranate juice, and traditional warm vanilla flavored teas. And the dainty tiers of bite sized treats included macaroons, salmon and cream cheese sandwiches, croissant sandwiches, pastries, scones and cupcakes galore!
Prices for high tea are still being finalized, but you can look forward to SALONTEA opening up very soon in the South Granville neighborhood, offering up a stylish way of having tea in a very modern and polished boutique styled tea house. And if you're not in the mood to stay for tea, there are packs of SALONTEAs you can purchase to drink at home. SALONTEA books and trinkets are also available for purchase too. Either way, the next time you do decide to go for high tea, be sure to visit SALONTEA; it's definitely the fanciful and exclusive New York twist on Vancouver afternoon tea—one that every girl is sure to adore!