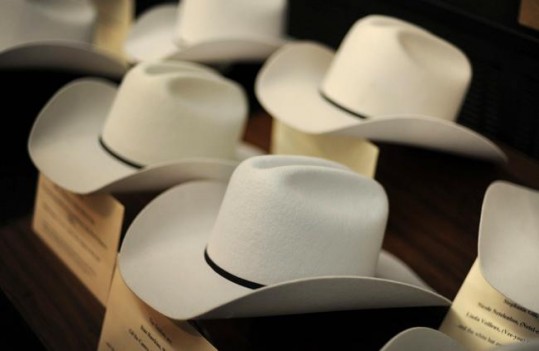 On Wednesday May 9, the Calgary Stampede, Tourism Calgary, and Travel Alberta will host a public White Hat Drop in three Canadian cities sequentially with a chance for one lucky person to win a once-in-a-century prize! Hidden inside one of 150 white hats on the stairs of the Vancouver Art Gallery (Robson x Hornby Street), one red envelope will contain a once-in-a-century prize package to experience the Calgary Stampede during its Centennial Anniversary.
Here is the schedule and timing for the White Hat Drop:
11:30 a.m. PDT – 150 wristbands to be distributed to the first 150 people. Participants will line up behind one of two designated corners of entry
12:30 p.m. PDT – 10 participants at a time will get access to the designated area and will have 30 seconds to choose one white hat to stand beside.
12:35 p.m. PDT – All participants simultaneously uncover chosen hat to discover if they have won the red envelope
The VIP prize package for two people includes the following:
Round-trip airfare to Calgary and two nights accommodation at Hotel Arts
Two tickets to the sold out Garth Brooks concert on July 12
Two Day Thrill package for the Calgary Stampede, includes Rodeo tickets, a VIP behind the scenes chuckwagon experience, evening show and more
A $250 gift card to get officially outfitted at Lammle's Western Wear & Tack
A Stampede dining experience featuring chef Paul Rogalski at Rouge Restaurant, one of only 2 restaurants in Canada to receive the top 100 restaurant rating in the world by San Pellegrino
Cocktails and tapas at one of Calgary's newest and most coveted restaurants, Ox &Angela
A look into Calgary outside of the Stampede gates, with passes to: Glenbow Museum, Calgary Tower, and the Calgary Zoo
If you happen to be in the Vancouver Art Gallery area during the hat drop, feel free to Tweet with the national event hashtag: #HatsOffYYC.