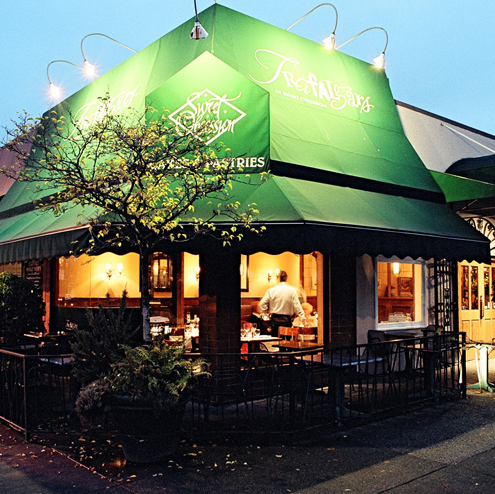 Last week at the 23rd annual Vancouver Magazine Restaurant Awards, Trafalgars Bistro in Kitsilano took home the Green Award for their farm-to-table philosophy which supports local organic farms with a passion for sustainability, simplicity and seasonality.  A week after the awards, Vancouver's greenest restaurant follows up its win with a new warm weather spring menu loaded with fresh flavour and sustainable ingredients.
Chef Matthew Villamoran created the new roster of dishes in keeping with the neighbourhood bistro's award-winning commitment to community and the environment.  "It fits with what I do," says Villamoran. "I've long believed that if you use quality ingredients and treat them with respect, the end result will justify your extra effort."
From brunch and lunch through to snacks and dinner, Villamoran walks the environmentally friendly talk: curating just-picked produce and natural meats from local farms; making his own condiments and even cheeses in-house; and seeking out lesser known and sustainably harvested seafoods, (which make up 80 per cent of the new menu). He pulls it all together with finesse, crafting balanced, full-flavoured dishes highlighted by a hint of whimsy.
Starters include grilled octopus served with pickled and fresh chili, and watercress salad tossed with chili vinaigrette, or another that mingles pickled local beets, Okanagan goat cheese and hazelnut "mulch."
Mains at lunch include comfortable classics like Abbostford fried chicken sided by warm potato salad, while dinner brings sustainable standouts like prosciutto-wrapped sturgeon or luscious rainbow trout.
Trafalgars Bistro is open Monday to Saturday for lunch and dinner. Their evening hours are from 5pm to 9pm (Monday to Thursday) and 5pm to 10pm (Friday and Saturday).  However, they won't close until the last diners are comfortably finished their meal.