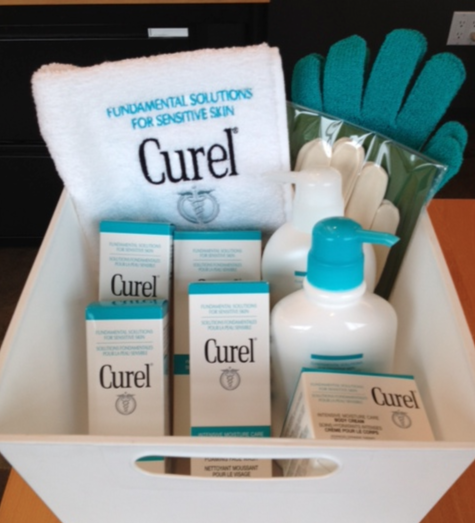 As Spring is in full swing and summer is approaching, it's time to put away the rain boots and peel back the layers. While most people delight in the change of the season, for some the thought of baring more skin can be intimidating for those who suffer from dry or sensitive skin.  On behalf of Curel Skincare, Vancouver Dermatologist Dr. Shannon Humphrey shares five simple skincare tips and reminders for Modern Mix Vancouver readers:
Keep it short and sweet – don't overheat: A 5 to 10 minute bath or shower adds moisture to the skin, however spending more time in the water has the reverse affect, and can leave your skin dehydrated. Do not bathe more than once a day, and keep it short. Also keep the water temperature warm, not hot, as hot water can also contribute significantly to skin dehydration.
The 3 minute rule: To lock in moisture from a bath or shower, apply a moisturizer within 3 minutes of bathing! This will trap the existing water in the skin and prevent the water from evaporating. Applied regularly, a good moisturizer should help decrease dryness and itching due to dry skin (if it doesn't, see your doctor).
Slather up! When moisturizing to treat dryness, you really need to use a lot of it. A thin veil is not necessarily enough for your skin to absorb. Pick a moisturizer that is free of colourants and fragrances, and give your skin a good coating of it – working it in as you go. You can even do it just before bed, and sleep in cotton pajamas to help lock in the moisture for ultimate absorption.
Gentle is best: skin care products that are fragrance free, alcohol free, colour free and pH balanced are the best. Gentle ingredients will support rather than 'hinder' your skin's condition.
You are what you eat: If you're prone to flushing or redness, it often helps to avoid caffeine, alcohol, spicy foods and hot beverages.
MMV Giveaway: Modern Mix Vancouver is giving away a Curel Gift Basket worth $150.  To enter, leave a comment below telling us your best skincare tip.  A random winner will be chosen from the comments below. Be sure to leave your email address so we can contact you if you're a winner. Canadian mailing addresses only. Contest ends Sunday, May 20th (11:59pm PST).  
For additional entries, you can do the following things;
For a second entry: Follow @ModernMixVan on Twitter and tweet "I want to win a @CurelCanada gift basket worth $150 from @ModernMixVan. http://bit.ly/IKchwR RT to enter!"
For a third entry: Like" the Modern Mix Vancouver Page on Facebook and write on the wall: "I want to win a Curel Gift Basket from Modern Mix Vancouver worth $150: http://bit.ly/IKchwR"