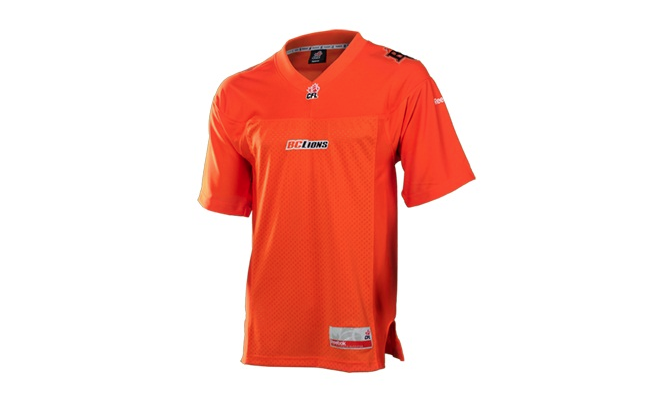 Reebok Canada, the official outfitter of the Canadian Football League, unveiled the new uniform of the BC Lions today.  Just in time for training camp, the eight CFL teams will start the new season with a brand new reengineered jersey. Each of the teams played an active role in developing not only their new reengineered on field jerseys, but also the look of the new Premier jersey available to their fans.
"The year of the 100th Grey Cup is an opportunity for us to celebrate our proud past and launch our bright future," said CFL Commissioner Mark Cohon. "And through our partnership with Reebok, with their expertise in professional football jersey design, CFL teams will kick off this historic season with brand new jerseys that feature the latest in technology as they travel the road to the 100th Grey Cup in Toronto."
Reebok is also expanding its jersey line for fans by offering a new Premier jersey. The Premier jersey was inspired by the on field jersey but has more of a lifestyle fit so fans can go from the stadium straight to their favourite sports bar without feeling the need to change. The new model is made of a double polyester mesh for improved durability. Some teams offer jerseys with topstitched lettering instead of prints. "Reebok wanted to offer a new version of the fan jersey that's as close as possible to those worn on the field. We're delighted with the results and I think we can honestly say mission accomplished!" said Stewart Clark, Marketing Director at Reebok Canada.
Fans can purchase the new jersey on CFLshop.ca, on each team website as well as at their respective stores. Starting Tuesday, May 8, the jersey will also be available at Sport Chek, Sports Experts, River City Sports, Jersey City Canada and other select retailers. The suggested retail price is $110.

MMV Giveaway: Modern Mix Vancouver is giving away a BC Lions Women's Premier Jersey in Size M.  To enter, leave a comment below telling us why you want this new jersey.  A random winner will be chosen from the comments below. Be sure to leave your email address so we can contact you if you're a winner. BC mailing addresses only. Contest ends Sunday, May 20th (11:59pm PST).  
For additional entries, you can do the following things;
For a second entry: Follow @ModernMixVan on Twitter and tweet "I want to win a @BCLions women's premier jersey from @ModernMixVan. http://bit.ly/IKBPd5 RT to enter!"
For a third entry: Like" the Modern Mix Vancouver Page on Facebook and write on the wall: "I want to win a BC Lion's women's premier jersey from Modern Mix Vancouver! http://bit.ly/IKBPd5″