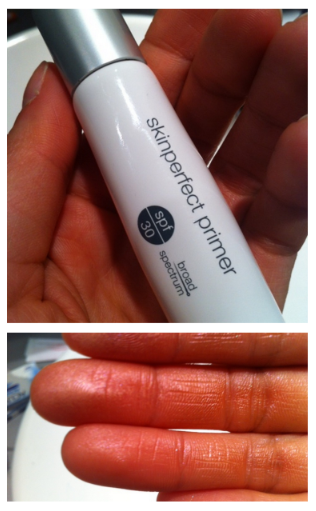 Blur the line between skincare and makeup. Introducing Dermalogica's newest product, the Dermalogica Age Smart SkinPerfect Primer with SPF 30.  The goal with the Skin Perfect Primer is to provide a smooth, flawless complexion by filling in the small lines on your face and correcting minor surface irregularities.
The Skin Perfect Primer comes out from a narrow plastic tube – you only need a minimal amount to cover your entire face.  Texture of the product is neither a cream nor a gel, but had a light, foamy feel to it.  I was surprised at the colour – I expected it to be clear, but it was a one-shade-suits-all beige tint with a soft luminous sheen (as you can see on my fingers above) from natural earth minerals.  Upon putting the product on my face, I was also surprised at the instant soft, powdery matte finish on my skin.
The Skin Perfect Primer may be worn on its own, like a tinted moisturizer, or as a base layer primer to extend the coverage and wearability of concealer, foundation and other cosmetics.  The SPF 30 provides a layer of protection against UV rays.
The Dermalogica Skin Perfect Primer was newly introduced to the Spa Boutique (3630 West 4th Avenue) collection on May 1, 2012 and retails at $64 for a 22ml tube.