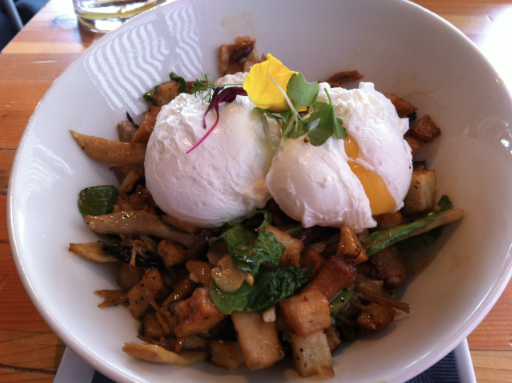 Edible Canada at the Market on Granville Island is a full service 150-seat bistro, focusing on new Canadian cuisine. Unpretentious, welcoming and accessible, Edible Canada features menu items sourced from across Canada. I have recently heard a lot of buzz about the local and sustainable menu at the Edible Canada Bistro and decided to check it out for brunch.
Menus are ever-changing following the seasons and what Edible Canada chefs find in the Granville Island Public Market on a day-to-day basis.  When I went last weekend, I had the Yarrow Meadows Duck Confit Hash ($15).  The shredded duck was mixed into small, diced hashbrowns, which is unusual from the big chunks of potatoes I'm used to.  Because of the small cubes of potatoes, I found that they were extremely flavourful as the sauce marinated the hashbrowns. I may have tasted a bit of sweetness in there, so there was a playful salty and sweet contrast on the pallet.  If you're going to order this dish, make sure you LOVE mushrooms because there sure were a lot of different varieties in hash.
My friend had the Wild Mushroom Benny ($11) which he thought was a well-balanced meal – creamy hollandaise on bright white poached eggs.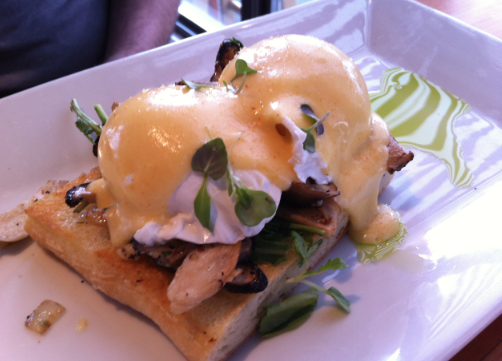 I initially thought the portions were a bit small, but we were both quite satisfied after our meals.  If you're on a budget, there are definitely breakfast and brunch menu items in the $10 range – such as the brioche Grilled Cheese with brie, cheddar, olive jam and okangan apple ($10) and the Edible Canada Breakfast with free range eggs, pork & apple sausage and crispy duck fat fried hashbrowns ($12). It's only if you get into the seafood items for brunch where it gets slightly more pricy – for example the East Coast Lobster Mac & Cheese ($19)
For those of you looking for an additional kick to your morning meal, try the  Maple Caesar, a truly Canadian experience – the maple leaf prevails on the Canadian flag, while the Caesar drink recipe originated from Calgary.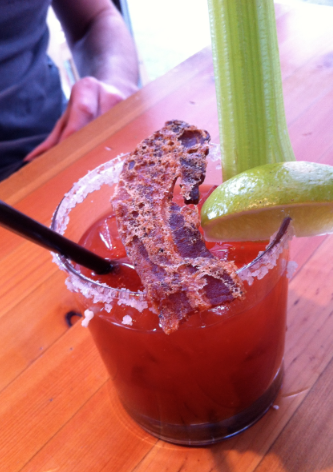 For those of you in a rush there is a  take out window for tasty bites and Salt Spring Coffee to go.  In addition to weekend brunch, Edible Canada is open daily for lunch and dinner.