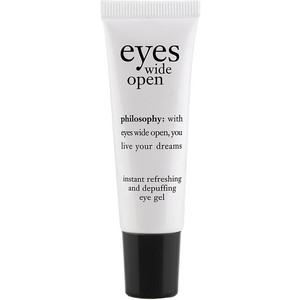 "With eyes wide open, you live your dreams."
Didn't get the beauty sleep you were hoping for? Don't let signs of fatigue leave you with a dull, tired appearance.  Introducing Philosophy's instant refreshing and depuffing eye gel, "Eyes Wide Open".  Diminish puffiness and under eye circles, and face the day with a refreshed outlook with Philsophy's newest eye product.
I like how the eye gel is clear and lightweight.  Apply with your ring-finger for ultra gentleness and dab in a circle around your eye.  Not sure about the long-term effects, but in the short term, I notice an instant, hydrated smoothness to the areas under and around my eye.
Philosophy Eyes Wide Open retails for $39 and is available beginning April 2012 at Sephora and select Bay and Shoppers Drug Mart stores.