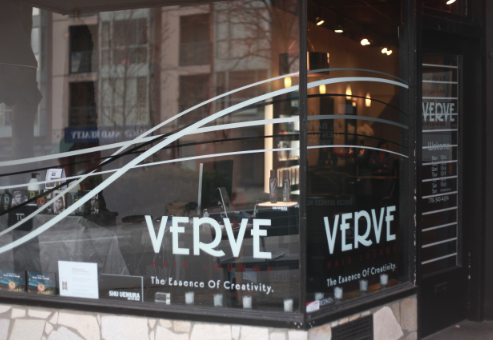 Earlier this month, I got my hair cut and coloured, compliments of the owner and creative director of Verve Hair Lounge, Amber George. Located in Lonsdale in North Vancouver, a quick seabus ride away from downtown Vancouver, Verve Hair Lounge prides itself on being a customer-centric and welcoming lounge with a downtown feel.  When you're getting a 3+ hour hair cut and colour, you have plenty of time to make yourself comfortable and get to know your stylist!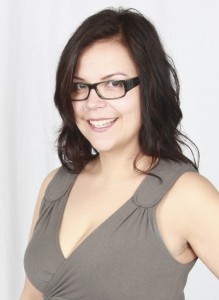 Fourteen years in the industry, and born and raised in BC, Amber was originally training to be a make-up artist. However, she was drawn to the 3D aspect of hair styling, which adds a whole new layer of creativity – of textures, colour, length and style.  In 2009, Amber opened her own hair salon.  The small but growing team of 4 at Verve are all staff members, which means no chair rentals from random stylists.
For my hair cut and colour, Amber used a new Redken hair colour line on me.  The product was just launched on April 1st. It is an ammonia-free hair colour that is odor free and leaves the hair 2x fortified.  In fact, I was given a mini science lesson on how hair absorbs colour.  Basically, with traditional hair dye, the ammonia opens up the hair cuticles (like shingles on a roof) to absorb colour.  This leads to hair damage from heat (ie. your curling or straightening iron) or cheap shampoo.  However, with the new Redken ammonia oil-based colour line, the science behind it is based on the principle of how oil and water don't mix.  The oil-based product pushes the colour into the hair, without having to open up the hair cuticles, and also fortifies the hair because of proteins and amino acids being absorbed into the hair.
Being more conservative with my hair, and wanting a hair cut and colour that is relatively low maintenance, I asked for a "good girl brown". Although Amber hadn't heard of that term before, she quickly laughed and agreed it was a good description to use because a colour image came to mind right away.  She suggested using three layers of subtly different shades of brown in my hair – with the lightest at the top of my head, and a gradual, subtle darkening to my ends.  As a result, my hair is given the illusion of a naturally sunkissed look, as sunshine tends to lighten the top of our heads and less so at the ends.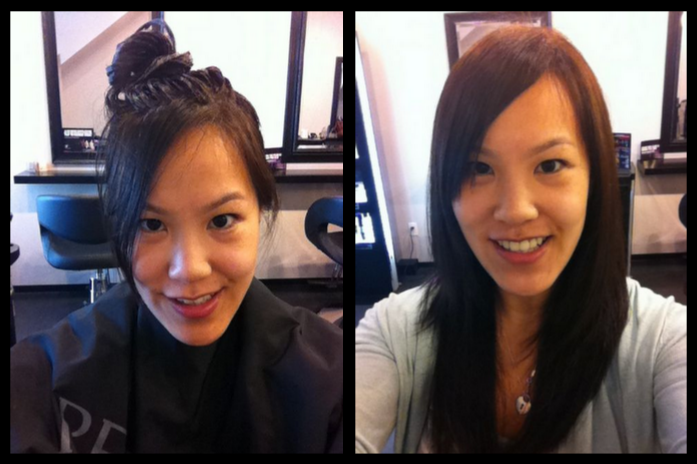 For the first week, the colour wasn't really noticeable, but after 2 – 3 washes, the gradual colour change is beginning to show through and I'm getting frequent compliments about my subtle change in hair colour.
But enough about my hair, what about other Vancouverites Amber has styled for?
Throughout her career, Amber has been heavily involved in the Vancouver fashion industry.  She is a popular pick for local designers and their photoshoots – having styled for Vancouver designers including Nicole Bridger, Adhesif, and Carlie Wong.  In fact, by coincidence, I ran into Amber again a week later in downtown Vancouver on her way to Vancouver Eco Fashion Week!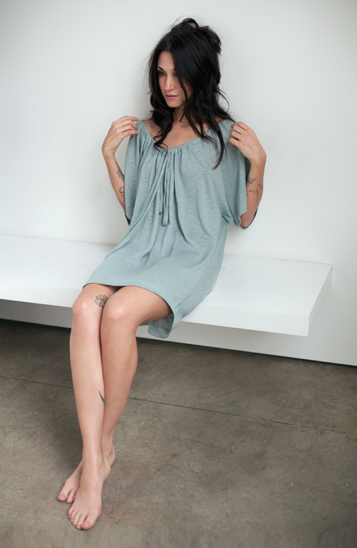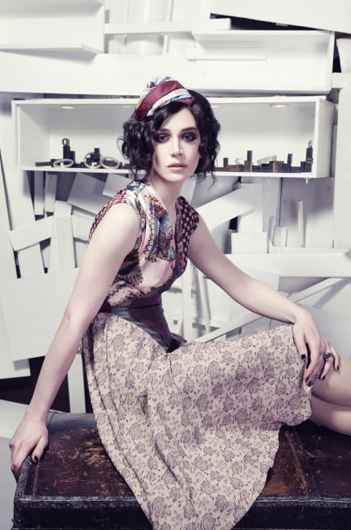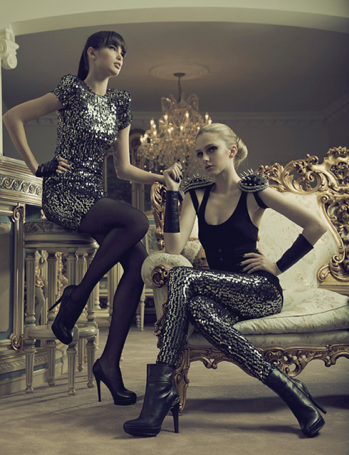 In addition, Amber recently was crowned the national winner of the Rowenta Beauty Versa Style Competition, which consisted of members of the Canada's beauty industry competing to create the best look using the Rowenta Versa Style iron. As part of her prize package, Amber was invited to join the hair team at Toronto Fashion Week.  Amber had the opportunity to style hair for designers such as Joe Fresh, Matis by Lucien Matis, Holt Renfrew, Adrian Wu, Laura Siegel, Chloe Comme Paris, Soia & Kyo and Eva Chen.
The definition of "Verve" is: the spirit and enthusiasm animating artistic composition or performance.   As you can see, Amber's creative flair is aligned with her aptly named "Verve" Hair Lounge.  Experience Verve for yourself.  Verve Hair Lounge is located at 227 Lonsdale Avenue in North Vancouver.  To book an appointment with Amber or another member of her team, call: 778-340-4654.