Quo Lipgloss – Spring 2012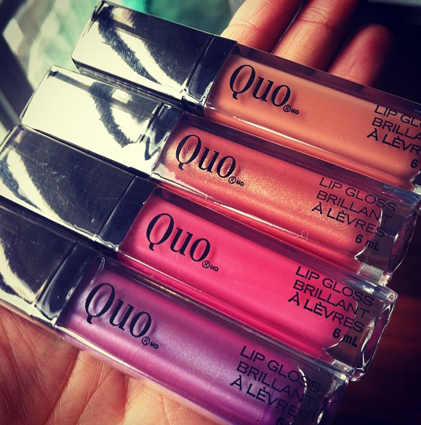 Don't be daunted by the bright colours of the Spring 2012 Quo Lipgloss shades.  Available in Tulle, Dessert, Flashy and Iris, the lipgloss shades are all quite sheer. Of the four shades in Spring 2012's collection, my go-to lipgloss is "Tulle", which is a sheer, neutral shade, with a warm glimmer of gold.  Each lipgloss is enhanced with nourishing aloe and vitamin E.  The square/rectangular shape of the lipgloss canister is great for stacking more than one shade on top of each other (instead of round tubes which will just roll off a counter).  Quo Lipgloss is available at Shoppers Drug Mart and retails for $12 each.
Of the four Quo Lipgloss shades, which one would you like to try?