By Eudora Koh, Modern Mix Vancouver writer
Modern Mix Vancouver was invited to the spring/summer 2012 showcase hosted by Oak and Fort.
The quaint and delicate Oak and Fort boutique is situated in gastown, such an appropriate neighborhood as it is also home to many underground and fashion forward styles and shops. I love seeing collections that smaller boutiques choose every season because I know their pieces will be unique and different than what is sold at mainstream retail chains.  The store was founded in 2010, and has since been offering Vancouverites a selection of international and quality garments. The very special part is that sometimes their in-house designers fuse together collections with their own (Oak and Fort's) designs, resulting in one of a kind pieces that Oak and Fort can call unique to their brand.
The media event that evening was lovely, from the breads, cheese, drinks, pastel decorated cupcakes and the harpist in the window case (yes, a harpist!), playing beautiful music for guests. The in-store setting was very intimate, with models posing every 15 minutes to showcase Oak and Fort's spring/summer collection, giving guests the opportunity to take some great photos.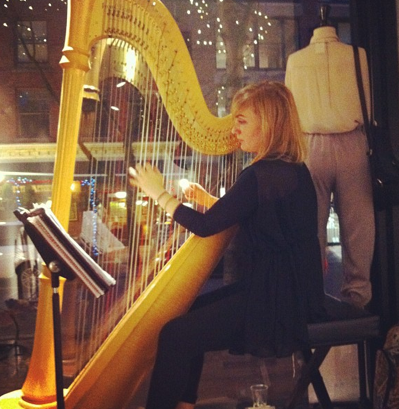 From initial observations, the Oak and Fort ss2012 collection is full of very soft colors and light and flowing material. You can expect to see sheer blouses, long dresses and skirts, light weight trousers, shorts, and shawls, as well as neutral and versatile tops. The collection very much embodies their buying team's vision of culture, art, fashion and exploration. You can be certain you will make full use of Oak and Fort pieces because the colors are neutral enough to mix and match with various outfits so that one piece can create so many different looks, both casual and formal.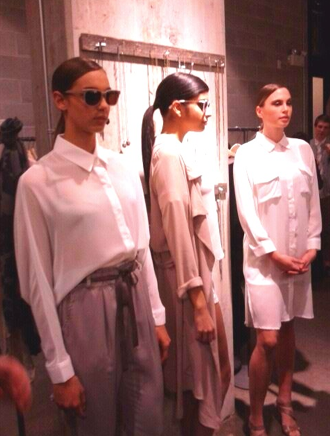 The ss2012 collection represents that effortlessly chic look—what you expect a trend setter to wear in the upcoming warmer seasons. Unlike many smaller boutiques that carry international designers, the nice thing about Oak and Fort is their reasonable and affordable pricing.  I highly recommend checking Oak and Fort out if you haven't already. Alternatively, you can visit the Oak and Fort website to view the spring/summer 2012 collection and shop online.