Cafeteria (2702 Main Street)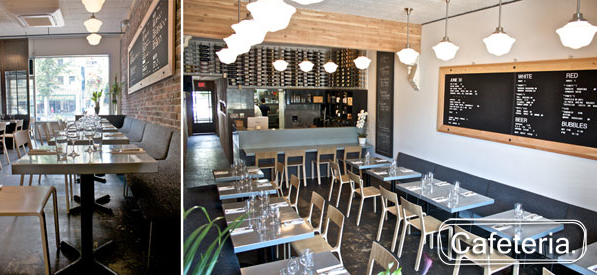 By Joanna Lee, Modern Mix Vancouver writer
Cafeteria (2702 Main Street x East 11th Ave.) is a cozy, neighbourhood restaurant from industry duo Andrey Durbach and Chris Stewart (think La Buca and Pied-a-Terre), offering comfort food in a nostalgic setting.  Located in the hipster community of Main Street, Cafeteria is a 30-seater restaurant which settled into the former space of Ping's Cafe in June 2010.  The room is fairly narrow and basic – exposed brick and vaulted ceilings with a wine rack-topped bar and glassy zinc table tops –  yet the it is lively and stylish at the same time.  The restaurant has already worked up a good reputation, as evident by the frequent line-ups and waits.
Cafeteria's menu is not cuisine-specific but is super casual, changing on a daily basis, and includes inventive offerings of beer, wine and cocktails displayed on old fashioned cafeteria-style letter boards. One can view the previous day's menu on their Facebook page to get a sense of Cafeteria's menu for the current day.
There is usually some kind of salad and soup on the menu and dishes are generally less than $25.  Some of the featured main courses in the past include Veal Cordon Bleu ($18.50), Bangers & Mash ($17), Duck Breast & Ginger Rice ($19.00), Chicken Schnitzel ($17.50) and Lamb Tagine ($23.50).One can order a la carte or there is also the option of 3 courses for $36.  With delicious food, good value and pleasant service,Cafeteria is an amazing little find that is worth multiple visits.
Cafeteria is open seven days a week from 5:00pm until late and takes reservations with seats reserved for walk-in diners.