Gosh Nail Lacquer – Core Colours Spring 2012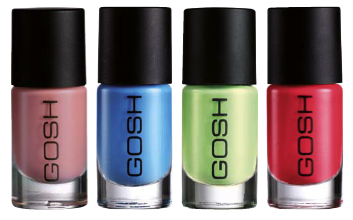 GOSH Cosmetics, the Denmark-based beauty brand that has become a sensation in Canada and 73 countries around the world, introduces 20 new core items to its Canadian line-up in February 2012. Kiss-proof pouts, multi-purpose pigments, smoky eyes and lashes that are sure to impress are all possible with this core assortment that features new ways to achieve fantastic beauty looks.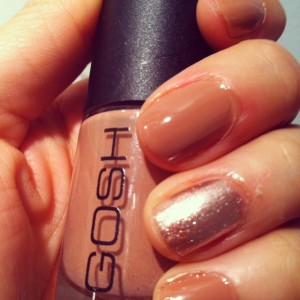 Of the four new releases in Gosh's core nail lacquer colours, Dusty Rose is the only neutral shade. The others are popping shades of Blue Balloon, Early Green and Crispy Coral.  Even though the name "Dusty Rose" hints at a shade in the pink family, the colour is more of a light chocolate brown, which reminds me of the Miss Mole and Miss Sweety Gosh Nail Lacquers I reviewed last spring.
In Canada, GOSH Cosmetics is available exclusively at Shoppers Drug Mart and Pharmaprix stores.