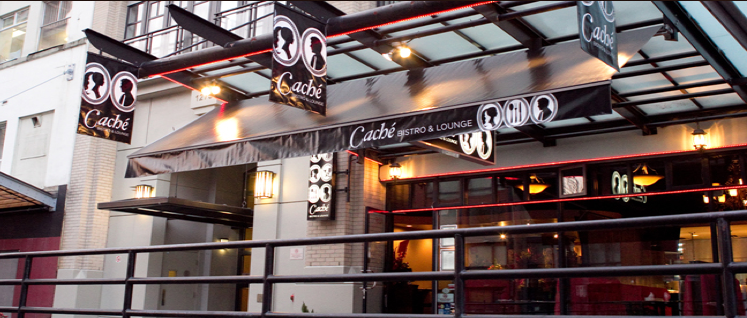 By Joanna Lee, Modern Mix Vancouver writer
Caché Bistro & Lounge is a French-Asian fusion restaurant and true to its French name, is hidden in a corner of Yaletown at Drake and Hamilton.  Only four months since its inception, Cache has already received praise from the local dining industry and has even won OpenTable's 2012 Diner's Choice Award.
Caché is helmed by brothers Jason and Alex Mok, who previously worked with the former chef to the King of Belgium.  Alex and his wife, Zoe, hosted "underground supper clubs," cooking and serving friends and locals at their Vancouver apartment.  Custom menus were designed by Alex and the two hosted intimate dinner parties before bringing their passion for food into the restaurant industry.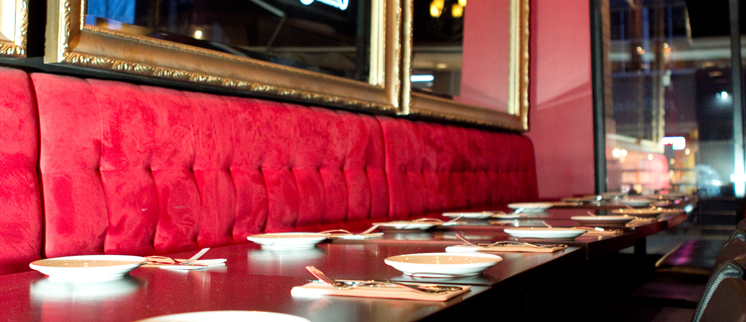 The menu is French and Asian inspired and primarily "nibblies" and tapas style.  Fairly priced for their size, dishes include the signature spinach and cream cheese stuffed portobello cap ($13), veal tenderloin tataki ($14) and the foie gras creme brulee with flying fish caviar ($10).  Sides include yam fries ($5) with a special house made ketchup (sans preservatives we were told) and lotus chips with chipotle mayo.  Instead of the conventional bread served as an appetizer, Cache serves deep fried pickles coated in cornmeal and crispy chickpeas with a lemon vinaigrette before you even order.  Drinks include hand-crafted cocktails such as a blueberry mojito and the Pineapple Express and one will also find German and Belgian beers on the menu.  Cache serves brunch seven days a week as well as a seasonal 3-course $35 set menu, with a variety to choose from and changing every two weeks.
Cache is a hidden gem with upbeat french music and great ambience conducive for lounging.  The food is affordable, fresh, and focuses on seasonal ingredients.  Cache is a great addition to Yaletown and absolutely worth trying.