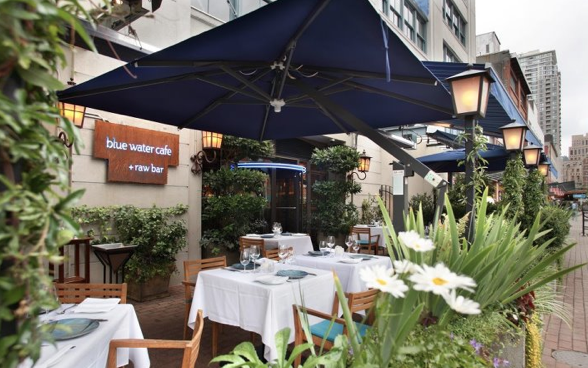 By Joanna Lee, Modern Mix Vancouver writer
Blue Water Cafe + Raw Bar is a seafood-centric, fine dining restaurant known as one of Vancouver's best restaurants. Located within a heritage warehouse, Blue Water Cafe is situated in the heart of Yaletown, one of the city's most vibrant neighbourhoods. The restaurant has received many accolades and awards, and has been profiled numerously in Vancouver Magazine, Food & Wine Magazine, and the Lonely Planet Travel Guide. It has been voted by the Concierge and Clefs d'Or as the best restaurant overall for cuisine, service and ambiance. Blue Water Cafe won this year's Straight's Golden Plates for Best (imported) Wine List and tied first for Best West Coast Cuisine.
Executive Chef Frank Pabst, one of Canada's most accomplished chefs, is highly regarded for his creativity and leadership in the kitchen and his technique is disciplined and diverse. Having learned his trade in some of Europe's finest kitchens, Pabst insists on using seafood from wild and sustainable harvest. Notable dishes include the West Coast Sablefish ($36.50) with miso-roasted eggplant, baby bok choy, and quinoa, Pacific Ling Cod ($28.50) with porcini-wrapped prosciutto, and White Sturgeon ($34.50) with chioggia beets and cauliflower puree.
The raw bar is equally impressive, offering some of the finest and freshest sushi, sashimi and nigiri in the city, prepared in front of diners by skilled sushi chefs such as Yoshiya Maruyama, who is meticulous in preparation and presentation. The restaurant also houses a wine cellar containing two private rooms that can easily accommodate up to 80 people, ideal for wedding parties and banquets. The long bar is perfect for a quick bite (oysters), signature and aged cocktails that have been cask-aged, and has an extensive collection of over a hundred malt whiskeys. Blue Water Cafe also has one of the most extensive wine and sake lists in the city with Wine Director and Restaurant Manager, Andrea Vescovi at the helm. He has been recognized as Sommelier of the Year by the Vancouver Playhouse International Wine Festival and one of Western Living's Top 40 Foodies under 40.
Blue Water Cafe is a Yaletown flagship known for its great design, consistent food and quality service. It remains one of the city's most sought after reservations and is ideal for people-watching and celebrity-spotting. Blue Water is open daily from 5:00pm.