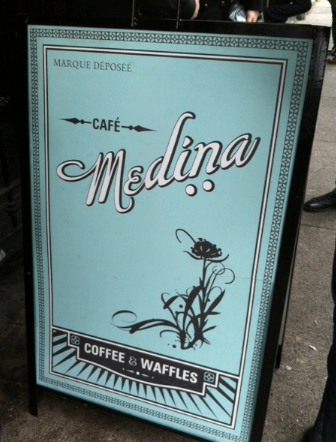 The neighbouring sister restaurant to Chambar, Cafe Medina, is arguably one of Vancouver's most popular weekend brunch spots.  Line-ups 10 – 20 people deep are usually seen outside the small establishment on the weekends.  Because I live downtown, I was able to write my name down on the list, walk back to my apartment, and go back in an hour, rather than stand outside in the wind and rain.
My friend and I each started off with Medina's famous Belgian Waffles ($3.15/waffle), and for a buck more, you can choose a topping.  We loved the white chocolate pistachio rosewater, but didn't care too much for the milk chocolate lavender.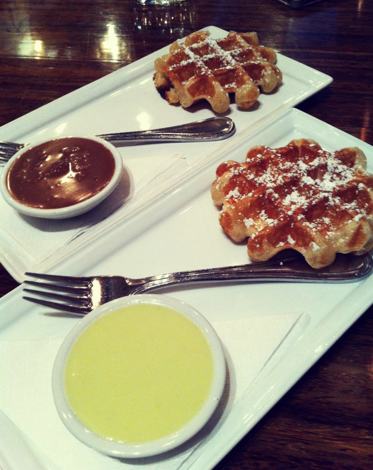 For the main course, I got the Fricasse ($16) which consisted of two poached egg (you choose the style of egg), braised short ribs, diced roasted potatoes, a slice of applewood cheddar and caramelized onions on a bed of greens (potentially some baby arugula) and was served with grilled Foccacia.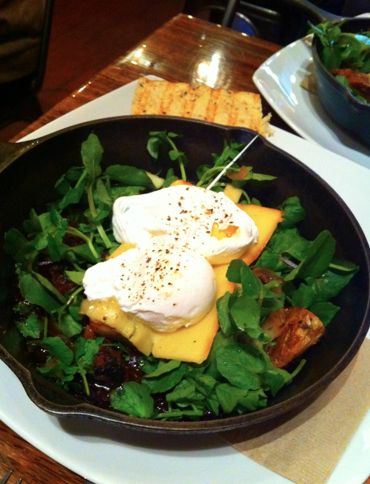 My friend got the Paella ($12) customized as a vegetarian option where the Hungarian chorizo was substituted with additional vegetables including zucchini, red pepper, roasted corn and tomatoes.  It was served with a poached egg (you can choose the style), water cress, avocado and curried orzo.  I liked how our dishes were served in a cast iron pan, which is good for heat retention for your meal.
The portions aren't massive, but what we had made a filling, hearty meal. Sometimes people go out for weekend brunch because it's more affordable, but with Medina, expect to pay dinner-time prices for your meal – my total bill was nearly $30 after tax and tip.