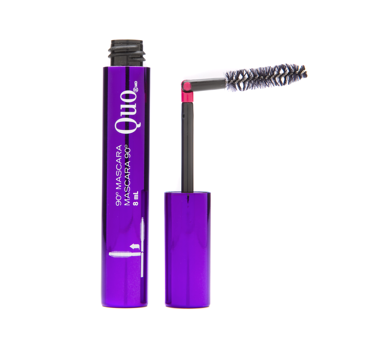 I tried a new mascara today from Quo, the in-house beauty brand from Shoppers Drug Mart.  It's not so much the formula of the product that I found innovative, but the wand, which bends to a 90 degree angle.
From reading other beauty blogs, I've seen professional make-up artists bend disposable mascara wands because the angle gives their hand a steadier hold.   If you try it yourself, you'll find that the flexibility in the angle of the mascara wand allows a more thorough reach of all your eyelashes.  You get a better hold on the brush and can angle your brush to reach the base of your eyelashes, resulting in thicker, fully coated lashes.
The Quo 90° Mascara retails for $15 at Shoppers Drug Mart.  For other eye-opening mascara picks, check out four other suggestions by Modern Mix by clicking here.