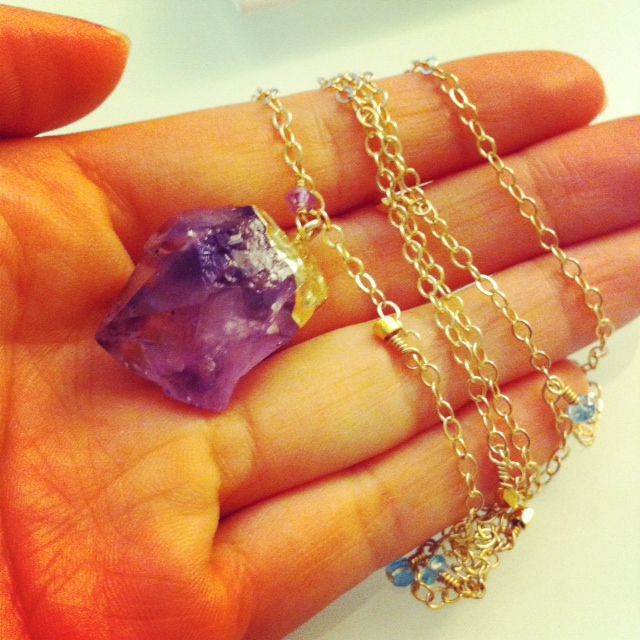 Chantale Walker is a Vancouver-based jewelry designer who started making jewelry over 10 years ago.  I recently came across her jewelry at Violet Hill Boutique in Steveston (in Richmond) and purchased the Rock Solid Nicole Necklace ($89) for myself.  The focal point of the necklace is a chunky amethyst quartz crystal, partially dipped in 14kt gold.
MMV: When did you start creating jewelry? How did you get started?
Chantale: Chantale Jewelry Designs started a little more than 10 years ago. I would make different pieces for myself, and then all of my girlfriends started to pinch my designs to wear out. That's when I knew I was doing something right. Their orders, along with those of their family, co-workers and other friend started rolling in shortly after that.
MMV: Since you've been designing your own jewelry line for 10+ years, how has your style evolved?
Chantale: My accessory style has changed a lot over the years. From big and chunky, to sparkly, to more streamlined and contemporary, long and layered. I keep an eye on runway trends only I don't follow them to the letter. I like to leave room for personal style, and self expression.
MMV: What was the inspiration behind the Rock Solid Nicole Necklace that I purchased from Violet Hill last week? 
Chantale: The Rock Solid Nicole will also come in Amber Crystal. You bought the Amethyst, which is my favourite stone. I'm really into big stones right now, and jewelry that I can wear with a layered look.
MMV: We heard your full-time day job is as the Acting Manager for the MAC counter at The Bay. Do you find that the beauty trends you experience through your position influences your jewelry design, or do you keep these two aspects of your life separate?
Chantale:  Yes, they definitely cross-over. I've worked at MAC for 10 years now, and we study beauty trends closely. Actually, I would argue that we set many of the trends! Makeup and jewelry are both accessories, so I see the two as closely tied. I also work closely with a variety of women – colleagues and customers – who have amazing personal style. These women all rock my designs in their own ways, which I love and it keeps me thinking about what to design next.
MMV: Where can Modern Mix Vancouver readers purchase your creations?
Online at chantalejewelrydesigns.com and also at Violet Hill Boutique in Steveston Village (Richmond).