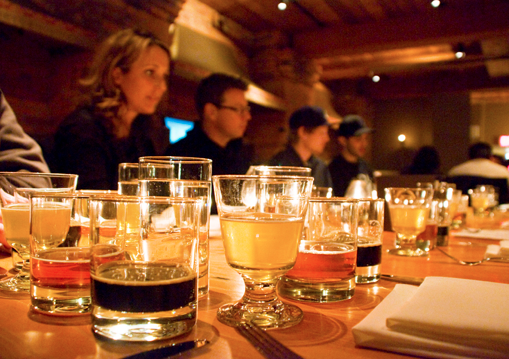 By no means a pub crawl, explore Gastown's exciting craft beer scene on Vancouver Food Tour's beer-centric culinary tour.  Upon signing up for the craft beer and bites tour, we knew we'd be stopping by four different destinations during the three-hour tour, but the locations aren't revealed until you meet your tour group.  We met our tour guide, Nicole Coetzee, and the other 8 – 10 members of the tour at Waterfront Station in Gastown.
The four Gastown locations we went to were Rogue Kitchen & Wetbar, Pourhouse, Clough Club and Bitter Tasting Room.   Each destination features unique aspects of beer including beer history and brewing process, beer cocktails, modern gastropub snacks and how to pair beer and food.
At the first location, Rogue Kitchen and Wetbar, all three beer selections were from British Columbia – Central City (Surrey), Driftwood Brewery (Victoria) and R&S Brewing Co. (East Vancouver).  We had a lobster macaroni and cheese, a hearty, spicy chilli and a bite-sized vietnamese sandwich to pair with our drinks.
Our Vancouver tour guide, Nicole, was really knowledgeable and personable.  She was well rehearsed in her tour speeches, yet the way she spoke about her craft beers was in a conversational, storytelling style, rather than a textbook lecture.  Nicole was able to describe craft beer with the five senses:
sight – how beer should look, the significance of the glass beer bottle colour
sound – what the "pop" of a beer cap should sound like to ensure the beer is fresh
smell – the typical aromas of different styles of beer
touch – the texture of beer on your palette (is it creamy? smooth? velvety?)
taste – the actual flavour of the beer and the styles of food it would be best paired with.
In addition, not only was she able to give us the spheal on the beer itself, she also produced snippets of information on Gastown history as we hopped from location to location.
Next up was Pourhouse. There, we sampled another beer from Driftwood Brewery, but were also introduced to two American brewery creations – a Pale Ale from Mirror Pond (Oregon) and and the Imperial 8 Ball Stout from Loast Coast Brewery (California).  For food pairings, see image below: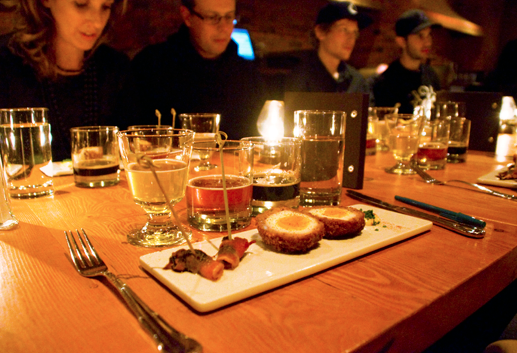 Most of the patrons of the beer tour came in pairs.  In our group, most of the people were from Vancouver, although we had a couple from New Zealand as well! In general, I found that conversation flowed easily with everyone in the group.  Because we switched locations every 40 minutes or so, conversations didn't run stale because you could sit beside a new person at the next location.  If you ever ran out of things to say, you could always divert your attention back to food and drink.
At the Donnelly Group's newest restaurant, Clough Club, we were served an "orange hop-sicle" beer cocktail which consisted of 2 oz of Cointreau, 3 oz of Driftwood Far Tug IPA, 1/2 oz dash of simple syrup and 3 dash Peychaud's bitters to round it all out.  The cocktail was strong, with contrasting flavours of sweet and bitter.  Keep your eyes peeled for more and more innovative beer cocktail concoctions – that seems to be a recent alcoholic beverage trend in Vancouver.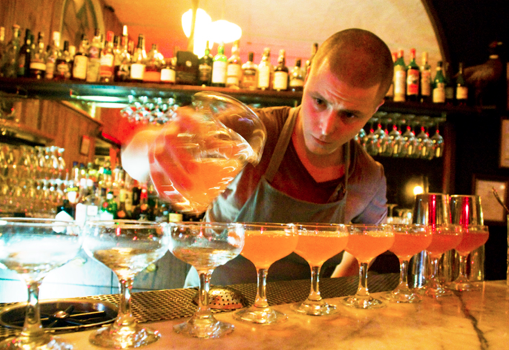 Lastly, at Bitter Tasting Room, we had another flight of beers paired with dessert.  Dessert was made up of multi layers of cream, nuts, cake and cherry, served in a jam jar.  At the last location, we were encouraged to stay as long as we liked to continue to social with our tour group.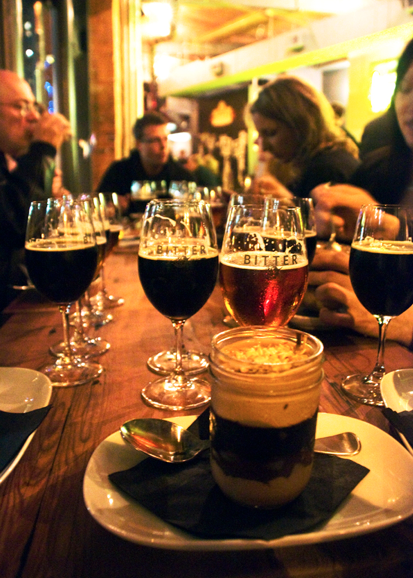 Convinced?  Hop on board and meet fellow beer devotees as you taste, sip, and bite through historic Gastown.  With a passionate beer educator as your guide, curious beer lovers and serious beer enthusiasts alike will discover, enjoy and discuss craft brews alongside a variety of food pairings.
The next Craft Beer & Bites tour will be on April 3.  The $80 tour includes beer tastings at each of the 4 destinations, hand-selected food pairings and an informative and interactive guided walking tour.  Click here for more information and to register online for the tour.