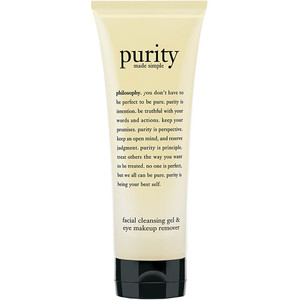 Continually looking for shortcuts to combine aspects of my cleansing routine to accommodate a busy schedule, the Facial Cleansing Gel is another rendition of the original, creamy One Step Facial Cleanser.  As a personal preference, when it comes to skincare, I tend to prefer gel products to cream products.  That's why I am particularly interested in Philosophy's newest addition to the Purity Made Simple skincare line, the Facial Cleansing Gel and Eye Makeup Remover.
I love the plastic tube packaging – it's a lot easier to squeeze than the original plastic bottle.  Also unlike the original "One-Step Facial Cleanser", the gel product is more foamy and works up a bit more of a lather and is formulated to be best suited for oily skin types.
Formulated with mild cleansing agents, this foaming facial cleansing gel emulsifies and creates a fresh, lightweight foam as you lather, while effectively removing dirt, oil, impurities, and all traces of makeup and eye makeup. It rinses completely clean and leaves even oily skin feeling refreshed.
After cleansing with the Facial Cleansing Gel, my skin felt squeaky clean.  Philosophy's Purity Made Simple Facial Cleansing Gel (210ml) will be available from April 2012 onwards at Sephora and select Bay and Shoppers Drug Mart stores at a suggested retail price of $26.