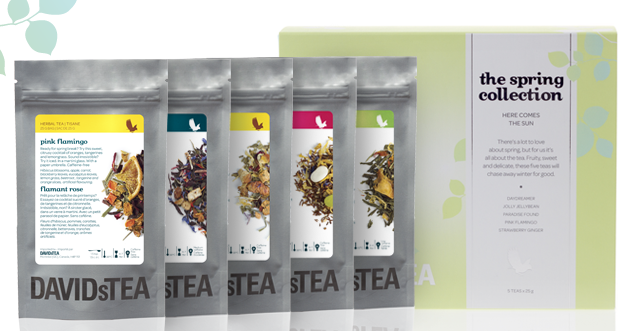 Spring is just around the corner and DAVIDsTEA recently released another special collection of five teas for the season.
Strawberry Ginger – a caffeine-free strawberry ginger blend.  The luscious berries are a perfect complement for ginger's zesty heat.
Daydreamer – Sencha green tea lightly flavoured with a tropical blend of mango, guava and mangousteen.
Paradise Found – A hibiscus, apple, orange peel and cornflower blend of black and green tea leaves.
Pink Flamingo –  a caffeine-free citrus cocktail of oranges, tangerines and lemongrass.  Not sure why it's called pink flamingo, of all the colours and wildlife to choose from.
Jolly Jellybean – a sweet, rich rooibos blend with real jellybeans in the mix.  That's what gives this tea a sweet and fruit kick!
The Spring Collection comes in a study, pastel green cardboard box containing a 25g pouch of each flavour for $25.50.  Have you tried any of these flavours? Which was your favourite?