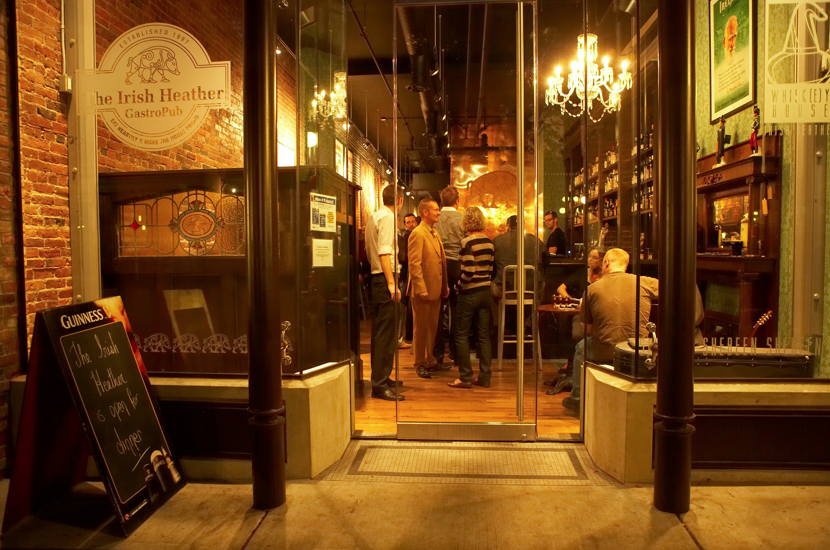 By Kuan Ho, Modern Mix Vancouver writer
With St. Patrick's Day coming around the corner, what better fit that to feature The Irish Heather and its true Irish heritage on Modern Mix Vancouver?
Located at 210 Carrall Street, The Irish Heather has been a Gastown staple since 1997 when Irishman Sean Heather opened his first establishment.  We were greeted by Mike Mitchell, Director at the Heather Hospitality Group, who explained to us that the company has always strived to keep the pub as authentic as possible. The beautiful exposed brick walls are decorated with original Guinness posters from the 1950s and the menu is populated with familiar Irish fare such as bangers & mash and pot pie. More importantly, there is zero tolerance for cheesy "plastic paddy" decorations: no green plastic hats, no pictures of shamrocks, and certainly no green beer. This place is the real deal.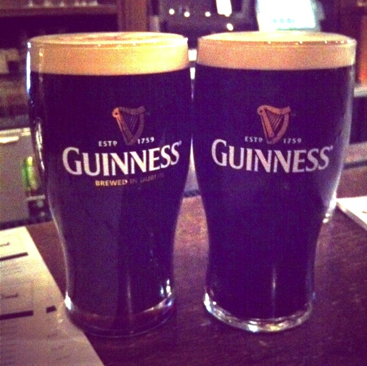 We also heard that The Irish Heather serves the "best pint of Guinness in town". As a casual fan of Guinness, the thought of having the "best" certainly piqued my interest.  I ordered a traditional pint of Guinness while Vanessa had the Guinness & Black, which is made with an ounce of Ribena blackcurrent cordial.
We watched as our bartender Bucky (who has worked at the Heather since day one) showed us the proper pour: the glass must be tilted at a 45 degree angle and held not too close but also not too far away from the tap, given a half twist while being poured, and then left alone to "settle" once 3/4 full. After about 90 seconds, the glass is then topped off, with the foam forming a dome shape over the top of the glass and a sharp, distinct separation between the beer and the foam.
Mike went on to talk about the more technical aspects such as hose length, storage and serving temperatures, and proper glassware, but concluded with two big things:
Every bartender at the Heather knows how to make a proper pour
Every drop of Guinness served at the Heather comes directly from Ireland, not from a distillery in Toronto
With my mouth watering, I took a big gulp of Guinness. Smooth, rich, and wholesome. Definitely hit the spot. How can you tell if you had a good pint of Guinness? Look at the glass when you finish — there should still different levels of foam stains on the glass to ensure a proper pour.
In conclusion, the guys at Irish Heather are serious about their stout and it really shines through when you step in and take a sip. Be sure to check them out on St. Patrick's Day or any other day to grab a pint.  The Irish Heather is open Monday – Thursdays & Sundays from 11:30am to Midnight, and Fridays & Saturdays 11:30am to 2am.