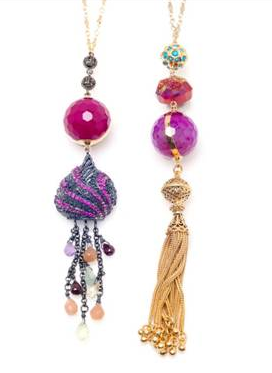 I first came across Vancouver-based designer Irit Sorokin and her jewellery at the annual artisan market, Spend on Trend.  I purchased a long, sterling silver wire-wrapped necklace with small, rugged, mint-green chrysophase gemstones.
For Spring 2012, I was pleased to see some new designs in bright vibrant jewel-tones paired with gold.  Not for the faint of heart, Irit Sorokin's Spring 2012 collection makes a bold and powerful statement.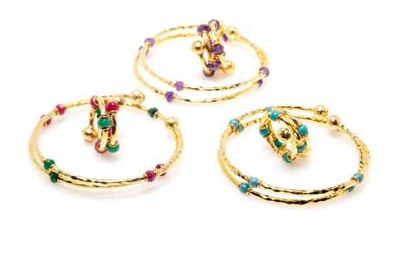 Irit's latest crop of dynamic jewellery weaves together ancient beads, fresh water pearls, crystals, antique coins, natural stones, and semi-precious gems. Although she is known for her necklaces, Irit travels the world to find the elemental pieces that get woven into a sophisticated collection that also includes rings, cuffs, bracelets, and earrings.  Delicate chains get strengthened with bone-like strips dangling with gems and a simple earring is made organic with a rough cut stone.
"Travelling, and observing the fashion trends in the countries I travel to, is where I find my inspiration. The history, art, architecture, markets, and people; it all influences me when I create my colourful and elegant designs," says Irit.
Irit Sorokin Designs ranges in price from $40-$550 and is available in Vancouver at Fine Finds in Yaletown, Two of Hearts and Barefoot Contessa on Main, and Tenth and Proper in Point Grey.