Weekend Brunch Series – Habit Lounge (2610 Main Street)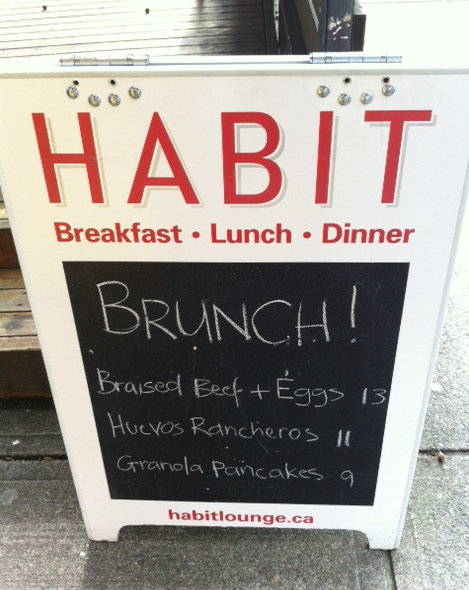 This past weekend, I left the downtown core for a more affordable weekend brunch edition and ended up at Habit Lounge on Main and East Broadway. The interior of Habit is cozy, but not cramped or crowded. The setting reminds me of a diner with its U-shaped booth seating lining the wall – great for accommodating a small group of friends who want to meet up for brunch.  The food selection at Habit Lounge is described as "modern Canadian comfort food". On weekends, brunch goes until 2:30pm and the lunch menu only begins after then.
I ordered the roast tomato, basil and chevre eggs benedict ($10).  I loved how the tomato was seasoned and roasted with a flavour of sun-dried tomatoes, but warm and juicy.  The hollandaise sauce was a warm, golden yellow, which was a stark contrast to the whiteness of the poached eggs.  The goat cheese was spread onto the toasted english muffins, which gave it a texture like cream cheese.  The hashbrowns were made just the way I like – coarsely chopped up into chunks and seasoned, slightly brown on the outside and soft and baked on the inside.
Because my eggs benedict was vegetarian, the meat-eater in me also ordered a side of pork sausage ($2.75). It was flavourful and juicy, but not overly greasy and was the perfect meaty addition to my eggs benedict. I was surprised there was only ONE sausage, but it was big and plump so I guess that makes up for the sausage a la carte.  I don't think I could have eaten more than one anyway.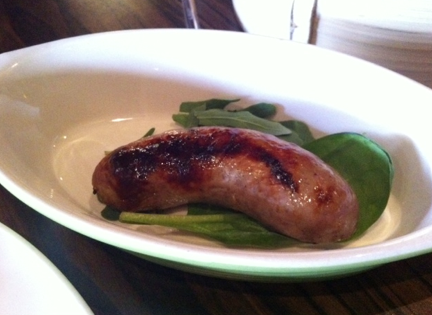 Meanwhile, my friend ordered the BLTA Sandwich ($9) with a fried egg ($1.75).  The whole grain bread gives the sandwich a hearty, healthy essence. The iceberg lettuce was fresh with that "chomp" sound when you bite into it, while the bacon was a flavourful, crispy addition to the sandwich.  The fried egg definitely gave the meal a more  "brunchy" feel, so brunch doesn't feel right to you without eggs, I would recommend getting the fried egg addition.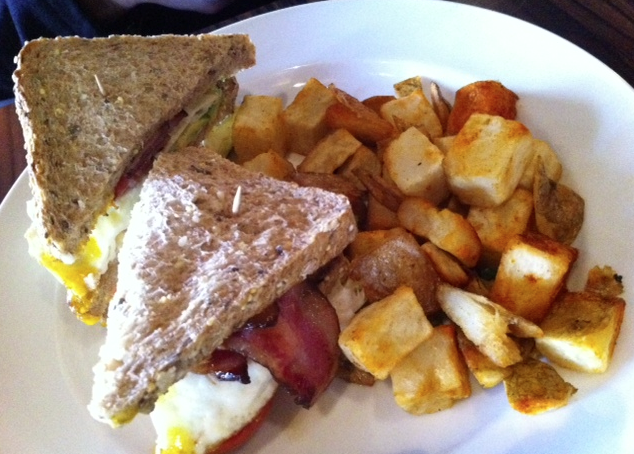 I really like Habit for weekend Brunch, it's probably my new favourite place to go. If it weren't for committing to trying out a new brunch restaurant each weekend for the MMV Weekend Brunch Series, I would probably just keep going back to Habit.