With its white table cloths, and full menu, Water Street Cafe is beyond a cafe.  In the heart of the Gastown district, across from the famous steam clock, the Water Street "Cafe" has been around since 1988.   As a result, because of its long-standing roots in this Vancouver tourist district, the restaurant environment is more traditional-upscale, with its white table cloths, rather than trendy or stylish.
When I went for brunch on a Sunday around noon, the brunch menu was on a separate sheet of paper, which leads me to think brunch may be a hasty add-on to its more popular lunch/dinner menu.  I found the service incredibly slow but luckily we were in no rush.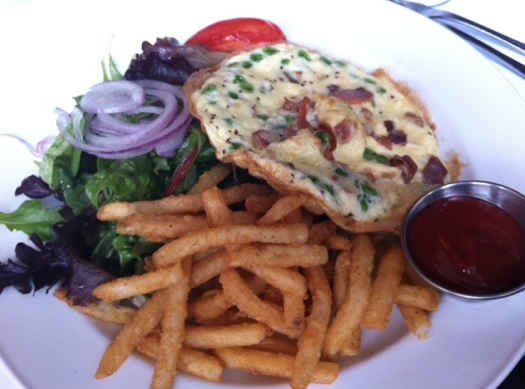 I had the frittata of the day which was prosciutto and peas.  I didn't like it.  Overcooked.  Maybe I shouldn't be surprised, the service was so slow, someone probably left my frittata cooking in the skillet.  The side salad was really plain.  My fries, made the dish seem more like a lunch item, which is fine because they were the best part of my meal.  The texture of reminded me of school cafeteria fries or fries from Wendy's, which I like, but wasn't expecting from a classy restaurant like Water Street Cafe.
Meanwhile, the breakfast sausage hash was sort of dinky – the way it was presented, and the portion size, made it seem like leftovers or a side dish, rather than the main part of my meal.  From my previous Vancouver Weekend Brunch Series posts on Modern Mix, you can likely tell that I'm used to big, chunky potatoes hash, whereas this dish seemed kind of dinky.  As you can see below, the hash portion took up less space than the English muffins. The cheese wasn't quite melted on top either, and sausage below was pooled in its own oil.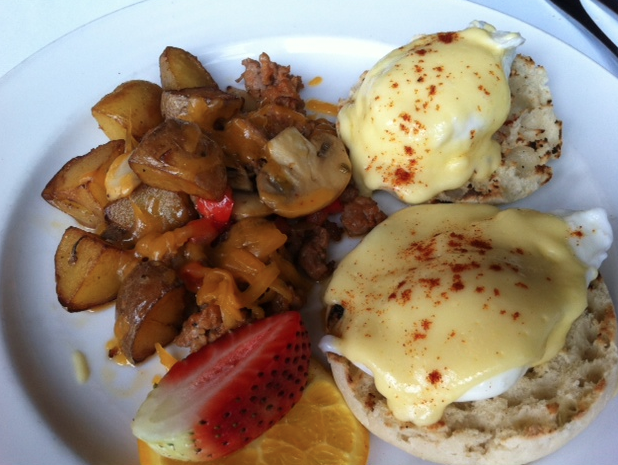 Given my experience, I'm not sure if brunch is a specialty of Water Street Cafe. I've been there before for both lunch and dinner, both times were better than for brunch.  I would come back, but unlikely ever again for weekend brunch.